Main Hall (Block B) in Nirvana Singapore is built-with Buddhist Columbarium Niche. The magnificent Buddhist Golden Statues: Amitabha, Diwang Bodhisattva, and Guanyin Bodhisattva rest in the lobby to maintain the wealth of the future generations.
New Nirvana Singapore Block B Level 5 (under construction, completion 2023)
Block B Main Hall
(Three Buddha Hall, 三圣殿)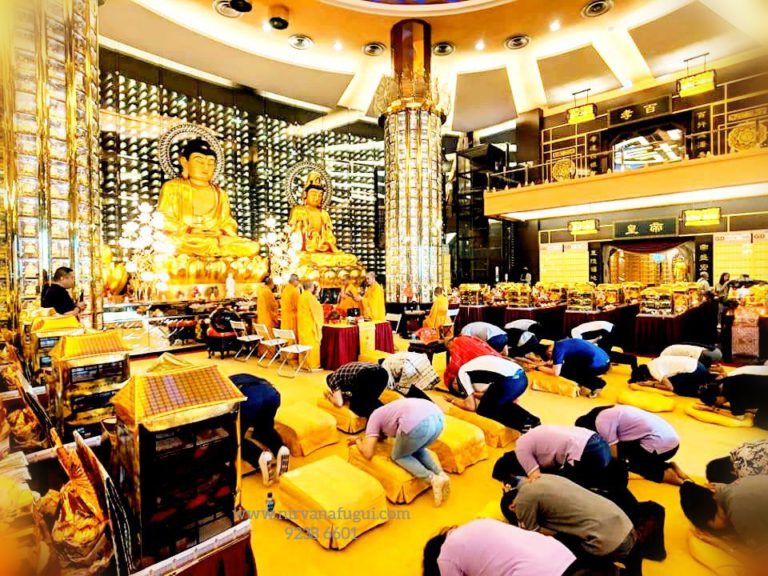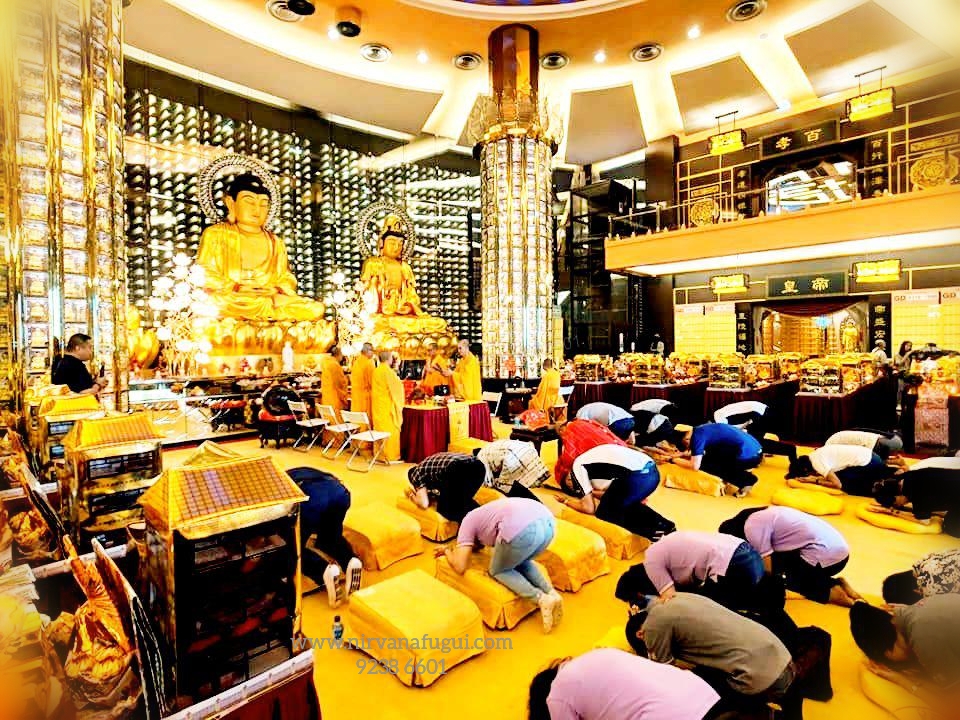 The Main Hall (also called Hall of Three-Buddha) is a traditional Buddhist Columbarium in Singapore. It houses the Holy Trinity of the Samsara World.  The three magnificent golden buddha statues include Shakyamuni Buddha​ , Avalokitesvara Bodhisattva and Ksitigarbha Bodhisattva.  They are believed to look after Heaven, Earth and Human respectively.
This luxurious environment is equipped with state-of-the art facilities while our future generation will be blessed with good health and prosperity at all times. Peace and serenity grace the surroundings for visitors to reflect and honor their departed loved ones.  
The Departure Ceremony is the only one in Southeast Asia and has aroused great curiosity in the media. During the ceremony, the Buddha statues had a green and red laser beam on their foreheads, and a white light was blown down from the ceiling, illuminating the urn placed on the lotus-shaped rotating seat, with the ashes after the cremation. The high-quality sound plays the comforting music at the same time. This sad and noble ritual is accompanied by rhythm, ruthless singing and lighting, illustrating the journey of the departing people to the Western Paradise. By participating in this ritual, the mourners found comfort and peace, so they were able to meet the needs of losing their loved ones.
Miniature statues of the Holy Trinity decorate the pillars and walls of the Hall. Adoptions of these Buddha statues bring merit and blessings for the whole family.  
新加坡富贵山庄主殿(又称三圣殿)是传统佛教骨灰安置所。殿内安置着三座宏伟的金色佛像包括释迦牟尼佛,观音菩萨和地藏王菩萨。她们分别掌管着天堂,人间和地狱。
这种豪华的环境配备了最先进的设施,造福子孙后代。周围的环境和平与安宁,使家人朋友能够追悼已故的亲人。
升天仪式是东南亚唯一的告别仪式,曾在媒体引起注意。在仪式上,佛像的额头上有绿色和红色的激光束,白光从天花板上照射下来,照亮了莲花形旋转座上的骨灰瓮。高品质的声音同时播放着令人愉悦的音乐。这种悲伤和高贵的仪式伴随着节奏,歌声和灯光,送别往生者前往西方天堂的旅程。通过参加这一仪式,家属朋友找到了安宁与和平,满足失去亲人的安慰。
大厅的柱子和墙壁安置着供养佛,保佑着供养的家庭整年的安康与财富。
Buddhist Columbarium (Royal Suite, R1 and R2)
The Royal Suite features exquisite glass-fronted niches, emulating the golden glamorous grace of imperial mausoleums from ancient times. The Royal Suite is indeed a classic for families to honor their esteemed ancestors, benefiting future generations with bliss and prosperity. 
Buddhist Columbarium Niche in Royal Suite, R1 and R2
Every columbarium niche in Royal Suite is exquisitely crafted with crystal Buddha statue at front cover glass. The carving on the clear glass is spiced up with a lotus made from glass ceramic powder to vouch for its rarity and preciousness. The crystal glass Buddha statue conveys the message of "blessings", answering holy vow to seek the right path towards the pure land for the departed loved ones.