The seventh lunar month is one of the most important traditional festivals in Chinese culture. The Enlightenment Ceremony is an important annual event held by Nirvana Singapore. The ceremony aims to express the gratitude and prudence to the deceased loved ones. It also help the deceased to move towards liberation and rebirth.
The Zhong Yuan Enlightenment Ceremony (中元节超度法会) will be held in Nirvana Memorial Garden from 25th August to 27th August. We uphold the embodiment of filial piety and perform various meritorious deeds for the deceased. This is not only helping the deceased to be reborn in the good way, but also praying for the well-being of the living.
Please contact us for the the following packages:
1. Royal Seat 帝皇席- $1,688
2. Prosperity Seat 尊贵席- $1,388
3. Peaceful Zone 安祥座 – $328
4. Merit Zone 功德座 – $188
5. Karmic Creditors 冤亲债主 – $58
6. Infant Spirits 无缘宝宝 – $58
In addition, Abundance Set (丰收满载礼包) which is Lunar 7th Month prayer offering set will be available for sale at $88.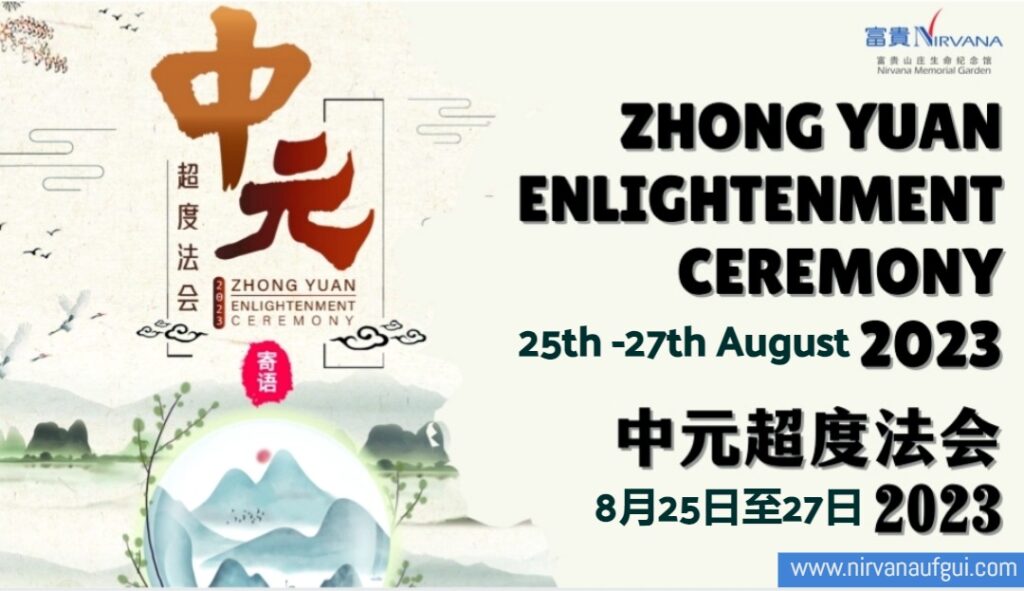 《Loyal Seat》
It is a luxurious table-style ancestor worship package sincerely recommended by Nirvana Memorial Garden. Package includes: 2 independent Lian Wei, Flowers and Fruits, six incense candles, luxury paper offerings and so on. Transcending the ancestors and begetting the pure land of Buddhas.
《帝皇席》
乃是富贵山庄诚意推荐之豪华供桌式祭祖配套,包含独立超荐莲位2座,鲜花素果,香烛六斋,豪宅纸供等等。超渡先人,生佛净土,见无量佛,及大菩萨,圆满具足。
《Peaceful zone》
An ancestor worship package in the front of Buddha's platform. Package includes a large Lian Wei, combined with six vegetarian fruits and food offerings. Transcending the ancestors, hearing the voices of all Buddhas, obtaining the blessings and peaceful liberation.
《安祥座》
随佛台前壁式祭祖配套,包含大型超荐莲位一付,联合素果六斋,粮食供品。超渡先人,闻众佛音,除三业罪,获无量福,安祥解脱。
《Merit Zone》
The ancestor worship package at two side walls of the Buddha. Package includes a medium-sized Lian Wei, combined with six vegetarian fruits and food offerings. Transcending the ancestors, hearing the Dharma and believe in understanding.
《功德座》
伴佛两侧壁式祭祖配套,包含中型超荐莲位一付,联合素果六斋,粮食供品。超渡先人,闻法信解,发菩提心,功德增长,超生净土。
《Karmic Creditors》
When many people begin to go into good times in their lives, they will begin to encounter many obstacles and constant troubles. The reason is that they have been interfered by the long-term family and creditors of the past. The entanglement of relatives and creditors is the result of both Yin and Yang. All Dharmas are born from causes and conditions. When there is a cause, there will be an effect. Sign up to participate in large-scale transcendent Puja, so as to get happiness.
《冤情债主》
很多人当生活中开始步入顺境时,即会开始出现诸多障碍、麻烦不断,其原因就是受到过去累劫宿世冤亲债主的干扰。冤亲债主的纠缠是阴阳皆苦的果报,运势不好、事业不顺、夫妻不和、子女不孝、睡觉作恶梦、甚至疑难怪病,皆是因果所导致的。万法皆因缘所生,如是因,如是果,因此更要多报名参加大型的超度法会,以超拔个人累生累世的冤亲债主,并将诵经拜忏的功德回向于牠,使之放下心中仇恨与冤结,离苦得乐,究竟解脱。
《Infant Spirits》
In the Puja, we sincerely pray that Ksitigarbha Bodhisattva to take good care of infant spirtis, by having compassion and love to resolve their grievances, and follow the Bodhisattva to the pure land.
《无缘宝宝》
无缘宝宝 – 乃是堕胎流产或不幸夭折的宝宝牌位。
在法会中,我们诚心祈请地藏王菩萨能够好好的照顾这些孩子们,以慈悲爱心来化解祂们心中的怨恨,进而放下执着和无明,随着菩萨往生佛国净土。