We offer traditional Buddhist funeral services in Singapore. Our funeral package provide peace-of-mind services and remove all the stress and logistics of organizing a funeral by including everything you need to give your loved ones a beautiful send-off.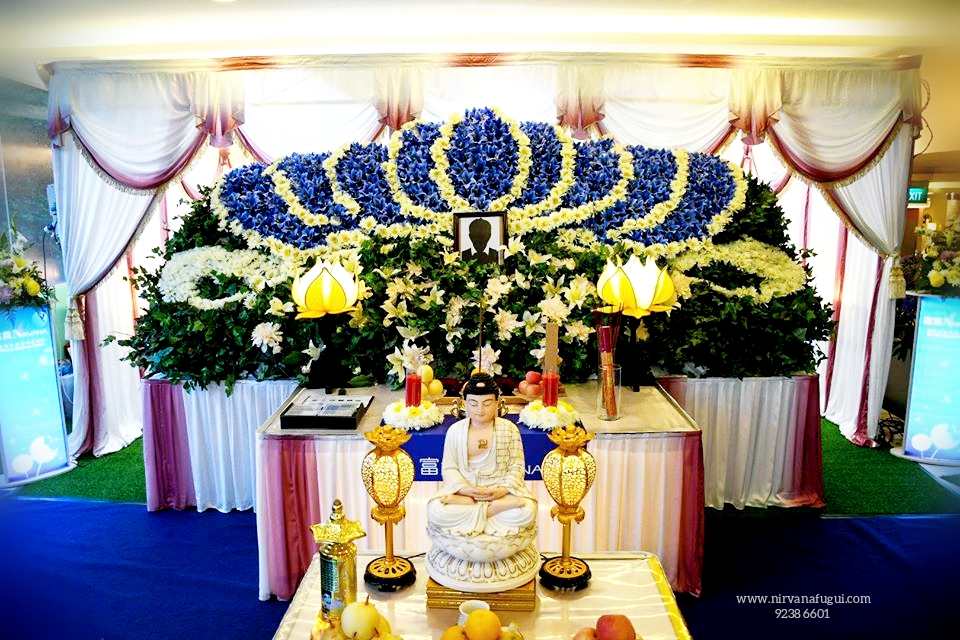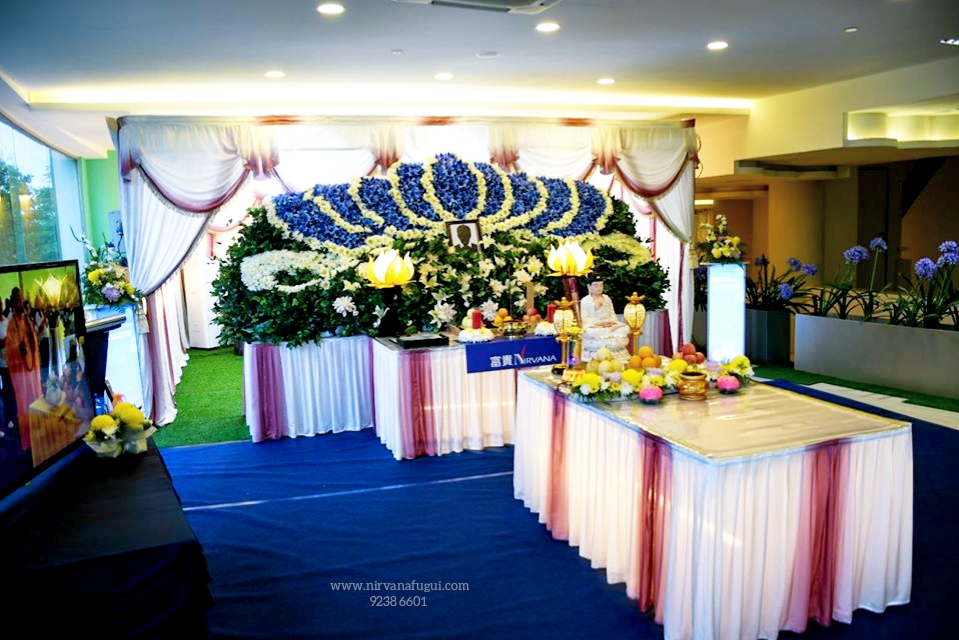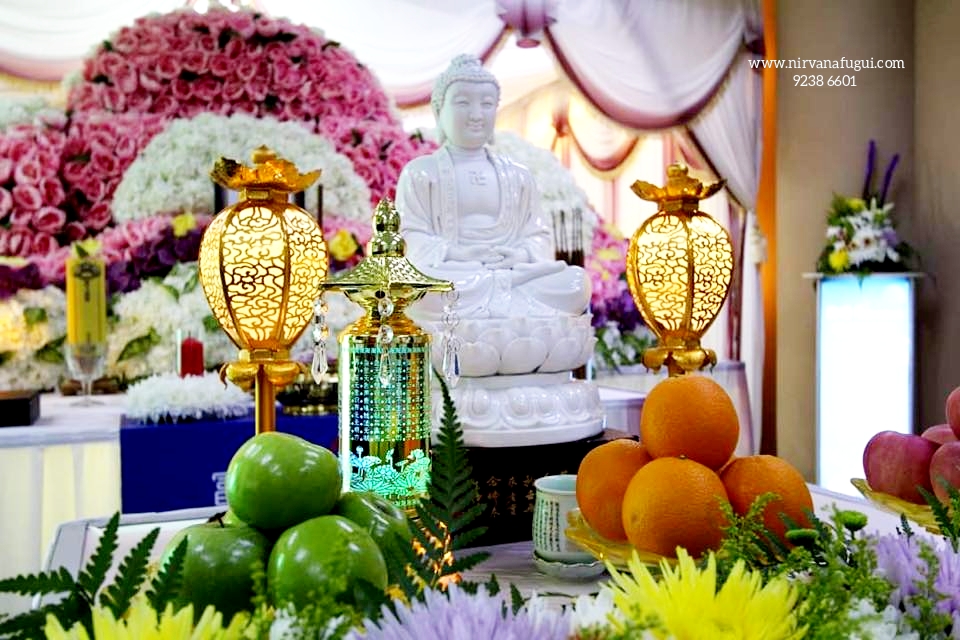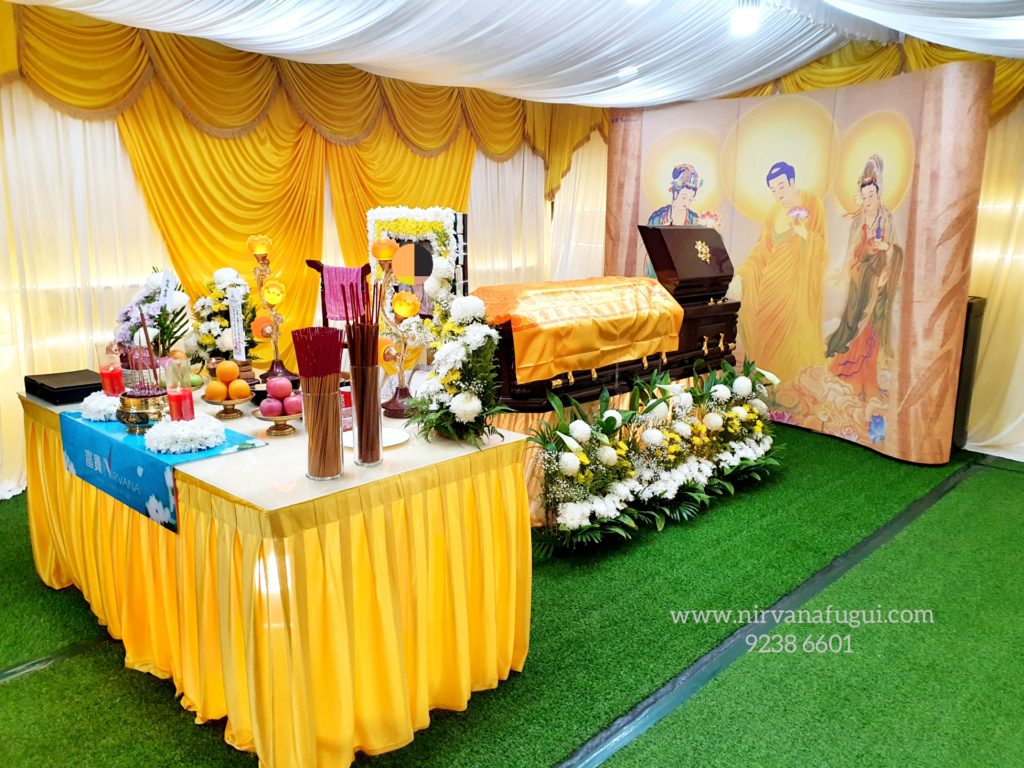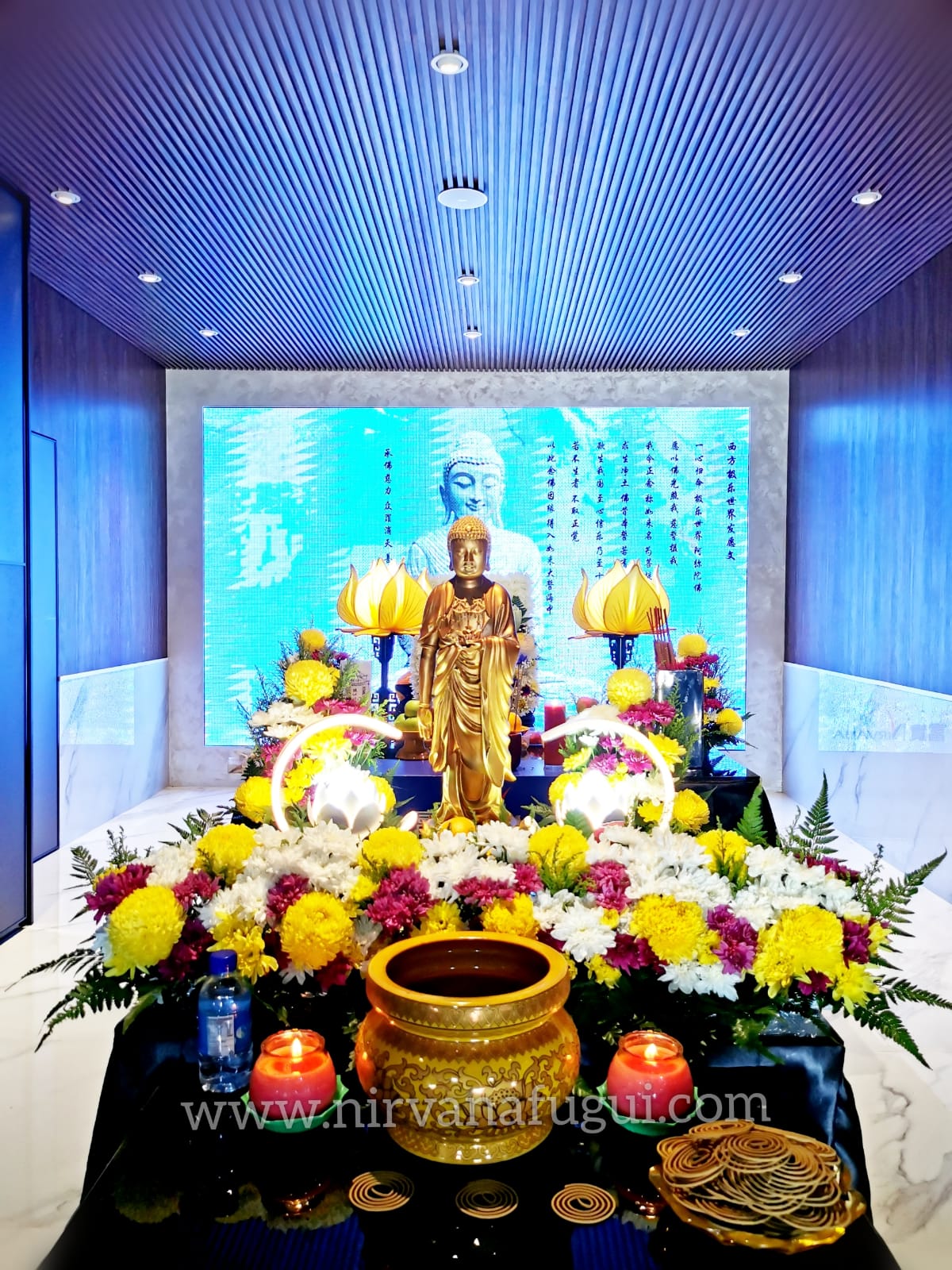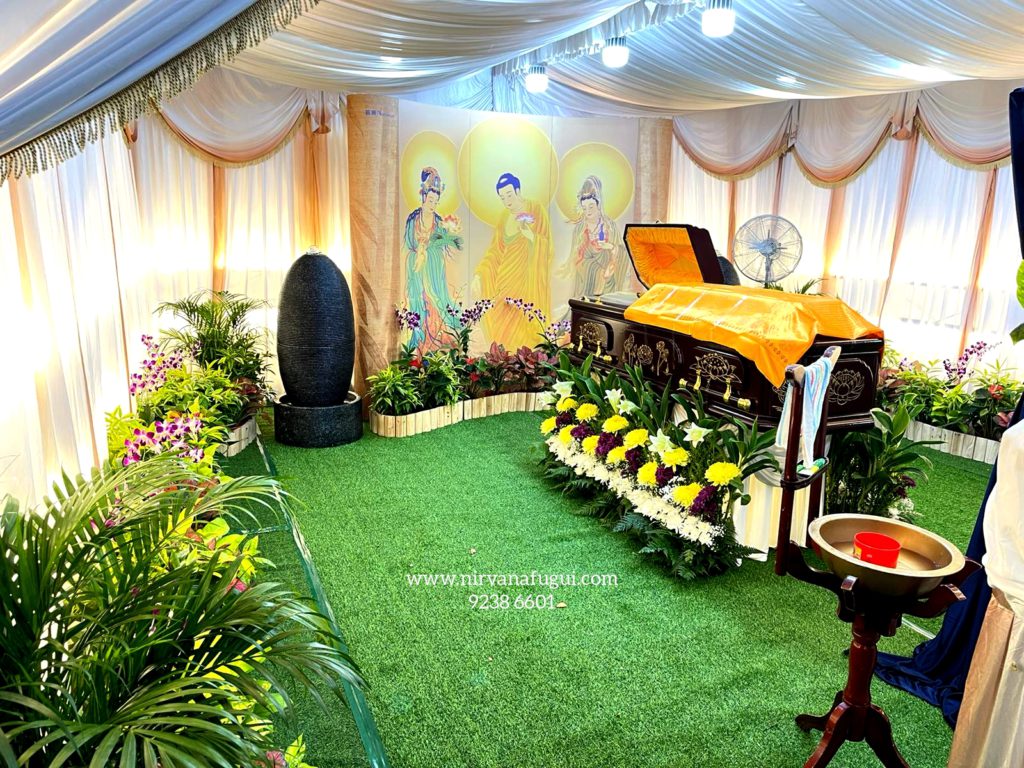 Buddhist Funeral
In Buddhist funeral traditions, reincarnation plays an important role. Buddhists view the death as a transition from the current life to the next, bringing the soul closer to Nirvana. Death is also an occasion for family members, it serves as a reminder of the Buddha's teaching on impermanence and provides an opportunity to assist loved ones into the afterlife as they travel on to their new existence. Nirvana Memorial Garden Buddhist Funeral Package is responsible to fulfill your family needs so that your ancestors are honored and not forgotten, even after the service. Our compassionate staff will help you honor your Buddhist funeral traditions in a beautiful and meaningful way.

The Buddhist funeral is simple, solemn and dignified, typically taking place 3 or 5 days after death. Many Buddhist funerals occur in funeral parlor or HDB void deck, depends on the customers preference. Adhering to Buddhist funeral traditions, the funeral service is typically held the following day and is conducted by a monk. There is always an open casket allowing attendees to view and say goodbye. Guests are expected to bow slightly toward the loved one as a sign of appreciation for lessons regarding impermanence of life. There would be a period of meditation, a traditional Buddhist custom, during the ceremony to reflect on the person's life and honor their memory. At a traditional Buddhist funeral, the family will wear white or cover their clothing with a traditional white cloth, along with a headband or armband. Mourners may also:
- Walk with sticks to symbolize that grief has left them the need for support;
- Chant or sing appropriate sutras (prayers)
- Bring offerings of flowers and fruit
- Burn incense to sweeten the air
- Ring gongs or bells
Although Buddhists understand that death is not an end, only a transition from one form to another, it is acceptable to show grief. In doing so, friends and family members acknowledge the loss of their loved one. Monks will perform last rites before the casket is sealed. Family members may assist in lifting the casket as a final act of service, while others attending may observe a moment of respectful silence. During the funeral procession, family members may walk behind the hearse; all attendees should be sending good thoughts to the family and contemplating the impermanence of life.
Why choose Nirvana Singapore Buddhist Funeral Package?
It is important to engage an experience funeral director, especially when funeral rites and customs are not often discussed within families or when most are unfamiliar with it. To cater for customer needs, Nirvana Memorial Garden offers three types of funeral packages: 3 days NV Longevity, 5 days NV Supreme and 5 days NV Legacy.

Nirvana Singapore has years of knowledge and experience in helping families. We are committed to ensure a proper organization of Buddhist funeral rites and provide help to bereaved families during this difficult period with professionalism. Since Nirvana Memorial Garden is also catering for the Columbarium niche for the placement of funeral urns, our customers would be able to enjoy the one-stop services that include funeral services, cremation procedures, professional ashes collection, 49 days prayer services, urn placement in columbarium niche, etc.
In Singapore, Buddhist funeral often combine Buddha's teachings with Chinese customs. These Chinese customs are based on individual dialects and emphasize the value of filial piety.
Most Buddhist monks recommend cutting down on unnecessary funeral expenses, hence Buddhist funeral arrangements are frequently basic. Many people will also prefer a more environmentally friendly method. Buddhist funerals frequently use a yellow or blue white tentage as the typical theme. Yellow is connected with enlightenment among Buddhists, while blue white is associated with purity. A display of Buddhist scriptures is frequently used to provide serenity and consolation to bereaved relatives and friends.
Buddhist monks would perform some rites based on Chinese customs due to the influence of Chinese culture. The essence of these rites remains the same: to establish qualities that can be transmitted to the departed loved one and bereaved relatives.
At Buddhist funerals, vegetarian food is typically served as a reminder to be compassionate to all beings. Fresh flowers are also appreciated at Buddhist wakes, as a blooming flower represents life's impermanence. 
BUDDHIST FUNERAL HIGHLIGHTS
1. Luxurious and Stunning Hearse
Nirvana Singapore has the first and only one of custom-made Funeral Hearse in Asia. The luxurious and stunning hearse allows the families to send their loved one off with highest respect. The family members and friends are are to have bird's eye view through its wide and vast windows during the Buddhist Funeral. The Buddhist funeral chanting music is turned on when ferry the deceased at the last journey.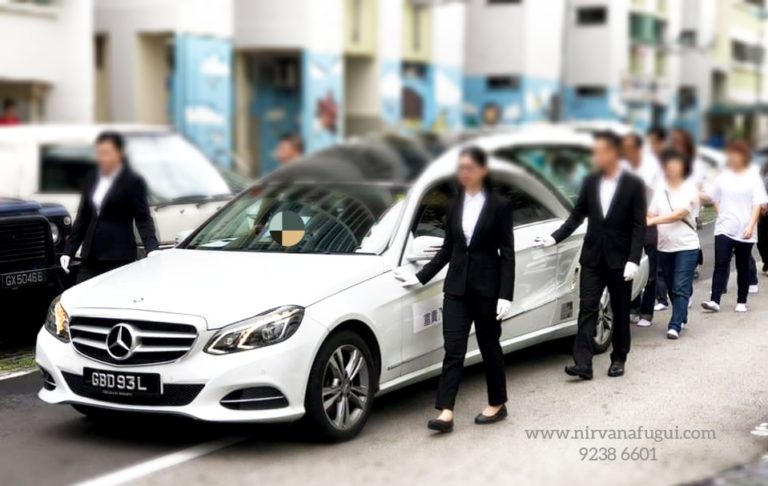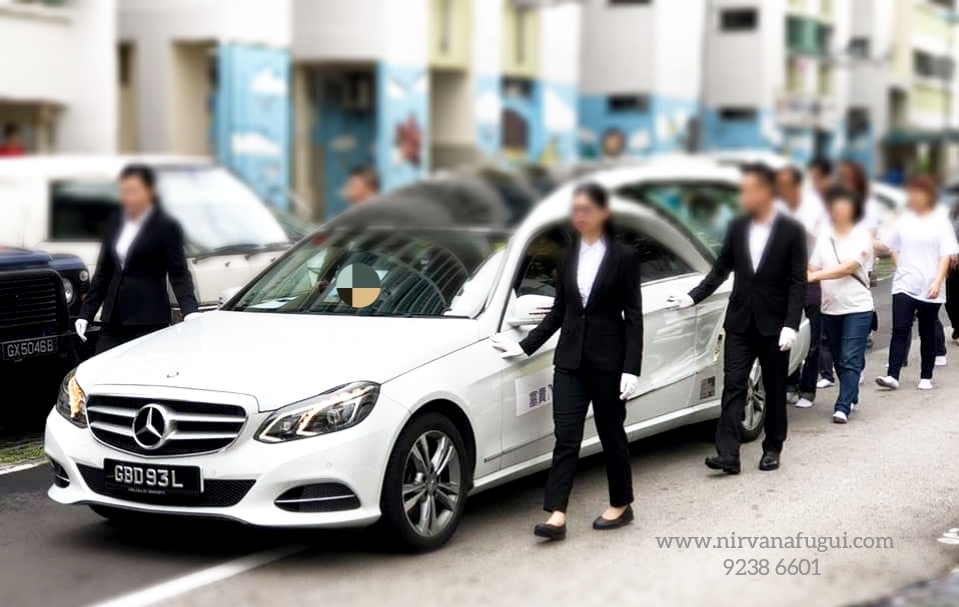 2. Female Embalmers
The embalmment process will be carried out by the professional female embalmer appointed by Nirvana Singapore. Why this is important? Because many family members would feel more at ease for female embalmers to sanitize and preserve the deceased especially for the female departed loved loves, this is a form of respect!
Besides, for the family members who would like to witness the whole embalmment process, they could sign up for the package "Journey with Love". This is the first in Asia signature spa treatment delivered to the deceased body by professional female embalmers and beauticians.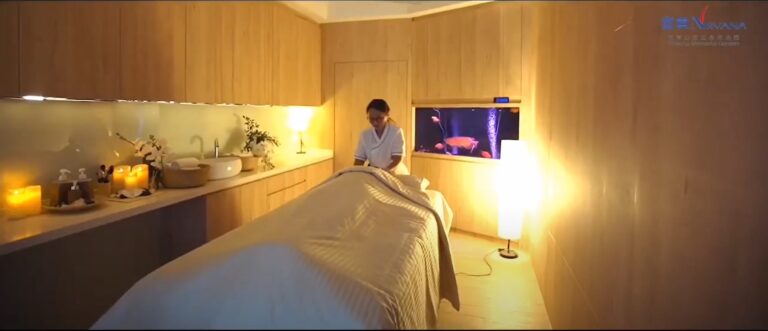 3. Elegant Buddhist Funeral Wake
Nirvana Singapore provides excellent and elegant Buddhist Funeral Wake setup. There are few options to choose the colors and themes of the tentage setup, depends on the budgets and preference. We are confident that the family members and friends will be highly impressed by the decorations of the Buddhist Funeral wake. 
4. Professional Buddhist Funeral Team
The professional funeral service team provides the peace-of-mind for the family members during the Buddhist Funeral Services. The team will co-ordinate, arrange and manage the Buddhist Funeral rites and ceremony throughout the process.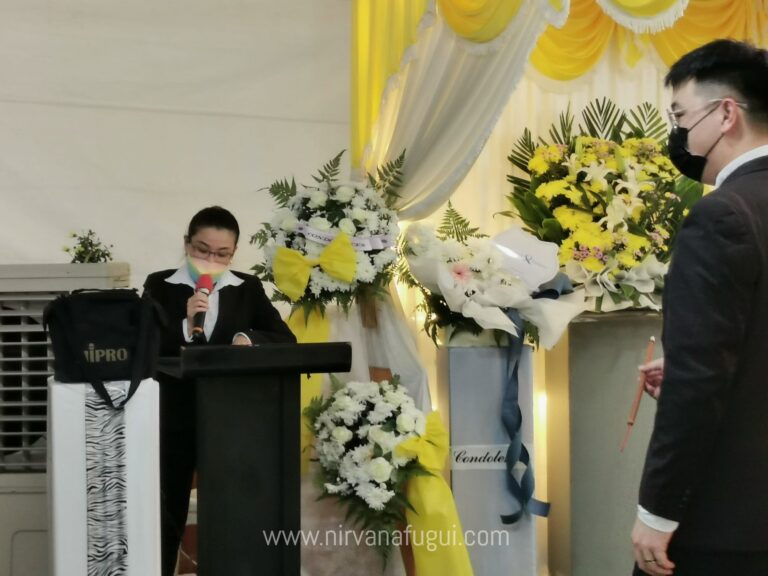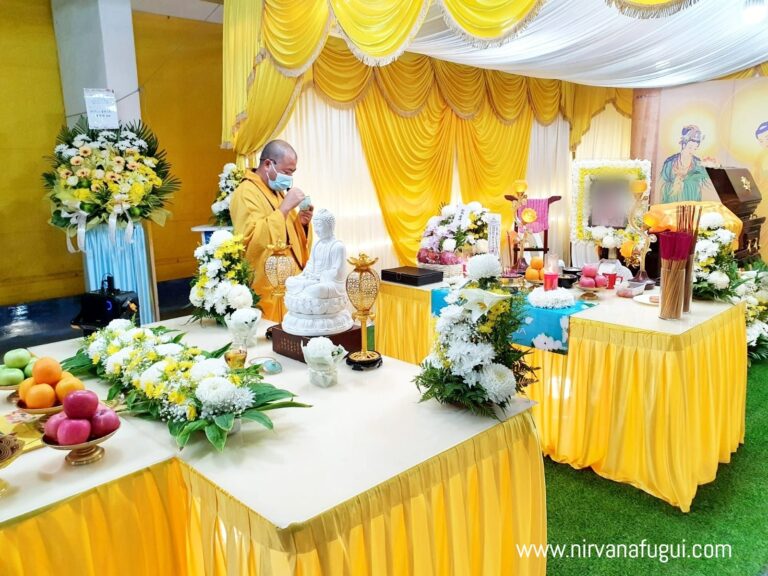 Buddhist Funeral Services Procedures
– Transferring of loved one into our care from home or hospital.
– Funeral Director to meet and provide briefing for family.
Buddhist Funeral at HDB Void Deck
– HDB Void Deck Tentage, Tables, Fans, Chiller and Chairs.
– Reception table, Condolence Money Box, Memorial Book, Signage, Stationary Box;
– 1 Unit of elderly friendly mobile toilet (applicable at funeral services in the HDB area.)
Buddhist Funeral at Funeral Parlor
– Rental of funeral parlor at Sin Ming Drive is included if family does not wish to conduct a wake at void deck. (Subjected to availability)
– Round Table and Chair Cover
Casket Services
– Encoffin Items include Sandalwood, Sandalwood Powder, Maitreya Quilt, Wash Basin, Paper Umbrella
– 4 or 8 Sided Half Glass Casket Half Glass (4SB / 4SY)
Funeral Wake Setup and Accessories
– Buddha and Altar Table Setup.
– Casket Area Backdrop
– Photo Enlargement and Frame
– Floral Arrangement with photo wreath 10" x 12"
– Funeral Notice, Online Obituary
– Snacks and Accessories like bottled water, packet drinks, peanuts, coffee machine beverages, etc
Embalming and Makeup Services
– Loved one will be sent to our embalming centre for cleansing and cosmetology services, performed by our professional female embalmer.
Funeral Day Service
– 1 funeral director to host the service.
– Professional pallbearers and support team
– 2 pax service staff (4 hours)
– funeral day service team
– funeral day PA system
– premium hearse (single trip)
– 44 seater bus (round trip)
– cremation at Mandai
Post Funeral Service (for customers who purchase our columbarium niche)
– Ash collection service
– 49 days An Lin Services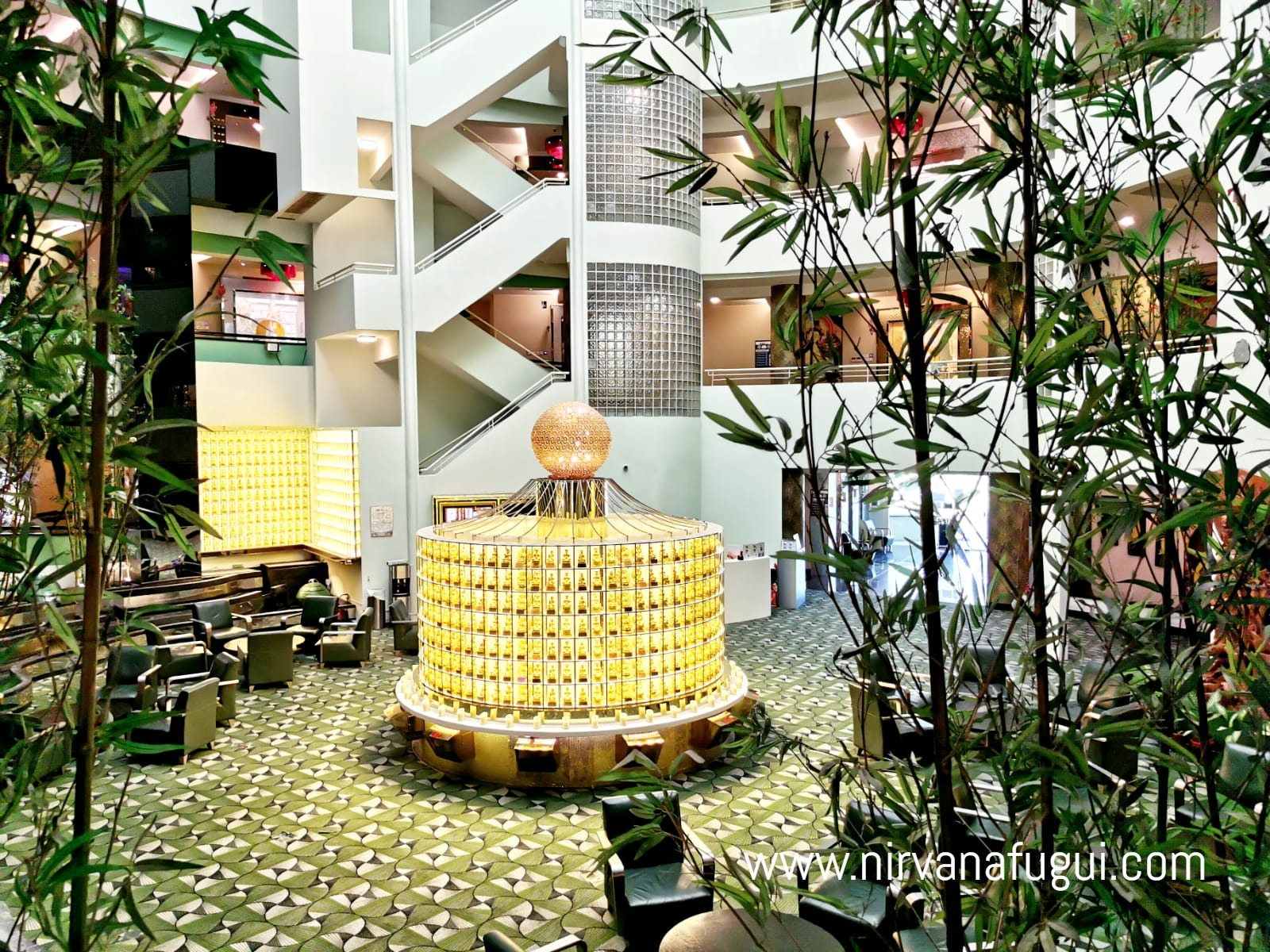 Since its establishment in 2009, Nirvana Singapore has provided its …