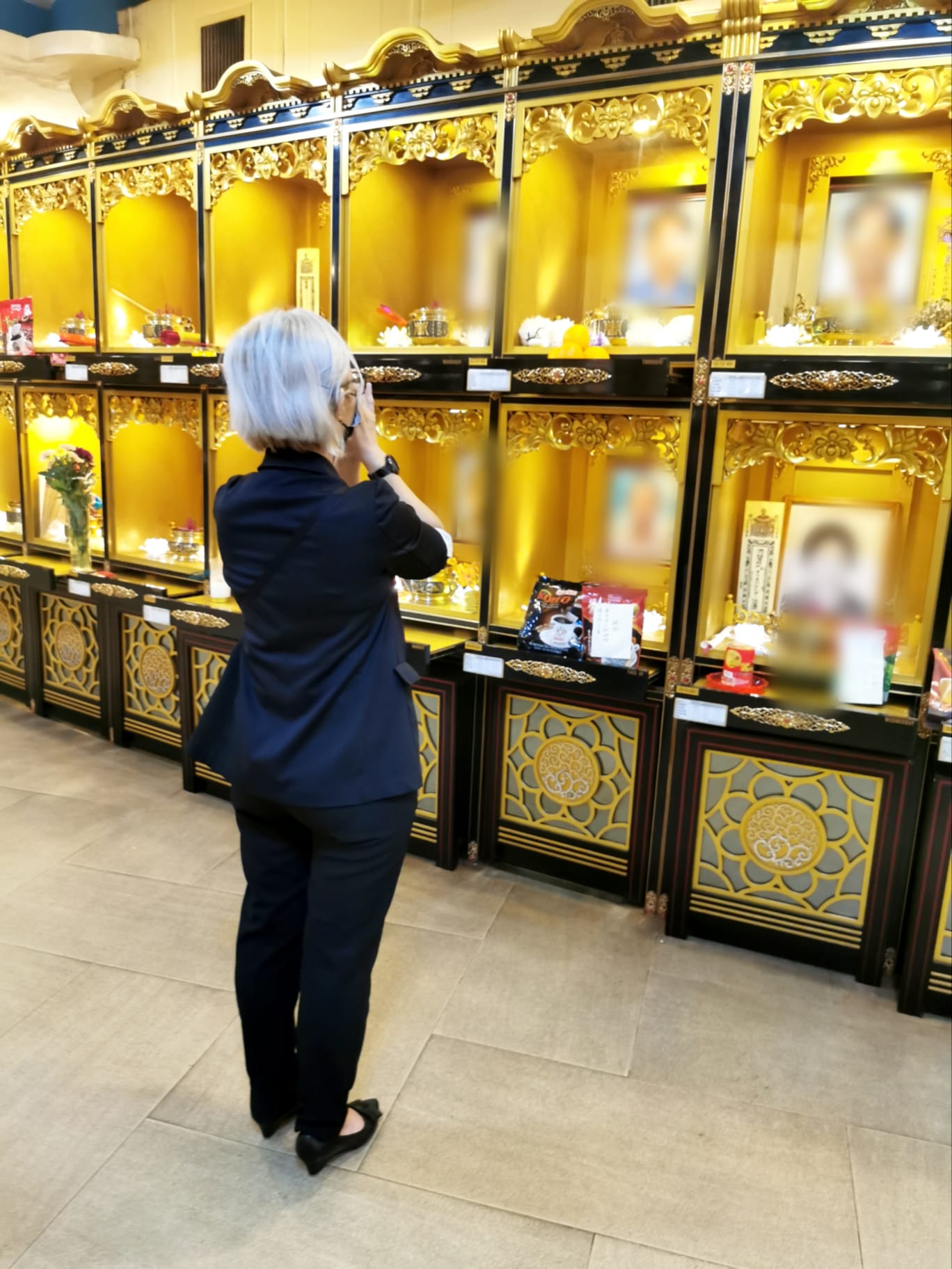 He was a cancer patient. He prepared his luggage, not because he wanted to travel abroad, but because he wanted to store …
第一次接触富贵山庄,发现跟想象中的很不一样。环境非常清幽舒适。 可欣非常专业很友善,她非常耐心地跟我解释殡葬仪式的细节,也乐于回答我所有问题。谢谢你可欣!
今天很開心能讓母親的人生更圓滿。父親和我們都覺得很欣慰。謝謝可欣,來叔還有師父今天的幫忙,讓一切順利進行,圓滿。感恩🙏🏻🙏🏻
I engaged Nirvana Garden @ Old Chua Chu Kang to do a Chinese customary rituals for my ancestors and deceased parent and deceased siblings last month. This rituals required couple of months of advance preparation. Ms Ang Keh Sin from Nirvana Garden was assigned to handle the job. She met up with me several times to check my requirements and provided me with very detailed information to all questions I asked. On the day of the rituals, she led a team of staff standing by at site to offer assistance to my family and relatives attending the event all day long. I am very satisfied and impressed with the professional services rendered by Ms Ang during the whole process. Also those monks engaged to perform the chanting service were serious and executed well. The whole set up at the site was impressive. The air conditioning event hall was large and comfortable for our crowd of 40 people. The rituals was a success. A Big thank you to you, Ms Ang and to Nirvana Garden.
excellent service provided by kehxin ,she is approachable and professional, glad to have her along
Inside is nice and looking forward for the new construction block which will finish next yr Aug.
I'm glad to have chosen 富贵山庄 and also really thankful to Keh Sin for all her services. She has helped to arranged and planned everything leaving my family free from worries during our most difficult time.
当我开始想做事前规划时,才开始从网上认识了富贵山庄的可欣,我联络了可欣,在她的帮助之下,我也开始认识富贵山庄,她也很乐意回答和帮助我有关事前规划要怎样去进行。还记得我联系可欣时刚好是在今年的清明节,我告诉她这个时候不想去富贵山庄看看, 她很细心也很有耐心回答我想知道的。也会发一些有关富贵山庄的福位让我多了解。 从中我看上了78的 Ying Xi Ge.  为了我的要求方向,可欣还帮我跑几趟去看方向。 就这样我也很快就做了决定。 有了可欣的帮助我也省下很多时间。成交后的服务也很重要, 我有问题微信她,她都会回复和打电话给我。可欣因为你的真诚和耐心的服务。 在这里给你5个星星🌟
I approached Keshin back in Jul 2020, after several round of follow up, I finally decided to visit the 山庄 with my mum as we were looking at pre-planning for my late grandma. Keshin is very detailed and nice and we truly like the environment of Nirvana. When ah ma passed on in May 2021, Keshin guided me throughout on what I need to do and also her aftersales service is so good that my aunt and uncle also do their afterlife pre-planning with her! Afterlife planning may sounds alien especially to young generation but death os inevitable and its not like a taboo that we should avoid talking about It's definitely something we need to look into as during the short funeral wake all I want is to spend time with my loved ones instead of rushing up and making decision.
我们喜欢富贵山庄的环境,决定在这里做了规划。谢谢可欣耐心的解说和导览。