Nirvana Memorial Garden Singapore (新加坡富贵山庄) was established in 2009. It is a part of the Nirvana Asia Group, a world-class bereavement care, and funeral services provider that was first established in 1990 and now boasts of more than 15 locations locally and overseas.
Nirvana Memorial Garden Singapore embraces modernization and globalization, but without having to compromise of the deeply rooted Chinese funeral traditions. It is not just a space where the remains of the departed lie in rest, it is a memorial garden where fully-equipped facilities have been availed in a beautiful, serene environment. For this reason and more, it is honored to be tourist attraction sites in Singapore. Our staff members are respectful and are more than happy to provide exemplary services from their hearts. Professionalism, quality, and respect are the benchmarks that have driven Singapore Nirvana to success over the years.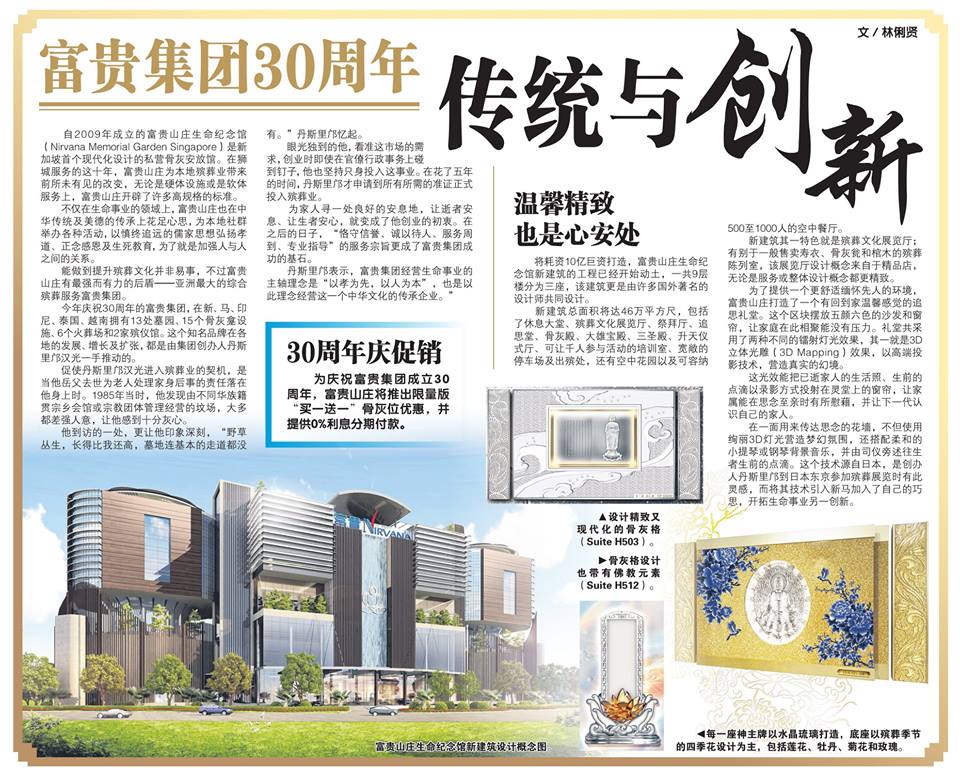 Singapore Nirvana Memorial Garden (新加坡富贵山庄)'s beautiful gardens offer more memorial options than any other memorial buildings in Singapore. On offer are various options for urn placement to suit everyone's religious needs and financial ability. Memorial halls and niches are also available with custom designs to suit different needs.
Though we are known to embrace different cultures and religions, the Chinese culture is something we hold dearly and aim to preserve even as various aspects of modernity are introduced and added throughout the facility to improve and add value to our bereavement and memorial services.
What is Business Core Value of Nirvana Singapore (新加坡富贵山庄)?
Nirvana Group (富贵山庄集团), which celebrates its 30th anniversary this year, has 13 cemeteries, 15 urn facilities, 6 crematoriums and 2 funeral homes in Singapore, Malaysia, Indonesia, Thailand and Vietnam. This well-known brand has been continuously developed in various funeral industries. We offer integrated premium death care services. We cover the entire death care services industry value chain, including the sale of niches, and columbarium facility maintenance services and funeral services. We also sell ancestral tablets, urns and other memorial products that are ancillary to our death care services.
We are one of a few death care services providers in Asia that can offer fully integrated death care solutions to customers that cover embalming and funeral services in our funeral homes, services in our own niches, ancestral tablets and columbarium facilities.
As we operate in a business area which values personalized care and attention, we believe reputation and trust are paramount for our customers. Our brand, Nirvana Singapore (新加坡富贵山庄) is widely recognized by customers as a provider of premium death care services in the markets in which we operate. In Singapore, despite the fact that we commenced our operations only in 2009, our brand names have the second highest awareness level among non-government columbarium operators, with 66.0% of the respondents being aware of our brand names. Such brand recognition gives us a competitive advantage as our target customers generally prefer to choose a premium brand.
We have earned numerous awards and recognition over the years, such as "Asia's Outstanding Brand in Funeral Services Industry" and "Asia's Outstanding Award in Multi National Expansion" at the 2012 Asian Funeral Exhibition (AFE) Awards. We believe that our brand strength allows us to command a pricing premium for our services and products compared to our competitors and allow us to attract talent and business partners.
Future of Nirvana Singapore 新加坡「富贵山庄生命纪念馆」'华丽转身' [target completion: 2022]
"I am honor to receive the awards from Nirvana Memorial Garden. Also, I am happy to be interviewed by Mediacorp Channel 8 about the professional services of Nirvana Memorial Garden."