Our one-stop Taoist Funeral Service is usually conducted based on the customer's dialect. It could be customized and carried out based on the Hokkien, Teochew, Cantonese, Hainanese or the Hakka funeral procedures. Our funeral director will guide you in carrying out such services.
Nirvana Memorial Garden offers personalized Taoist Funeral Services, including casket, funeral hearse, coordination of memorial ceremonies, cremation urn, and ashes collection at the crematorium. Nirvana Memorial Garden was the award winner for the title of "Largest Bereavement Company in Singapore" by Singapore Books of Record (SBOR) in 2018.
Nirvana Memorial Garden has a team of professionally trained female embalmers. They are dedicated to provide sanitization, presentation, and preservation for the deceased body.
Nirvana Memorial Garden promotes the funeral pre-planning and offers the monthly instalment at no interest rate. The price is transparent, and the checklist is followed and tracked from beginning till completion of funeral services. They help minimize the stress of logistical matters the family has to go through during the funeral wake.
Nirvana Memorial Garden provides fully equipped facilities and exemplary service from the heart. They have the best Taoist design columbarium niches for urn placement. Their columbarium niches are elegant and well-maintained, highly recognized as the Final Resting Place for the departed loved ones.
There is some form of Buddhist influence in Taoist practice, and funeral services are aware of Taoist practices regarding funerals. There is essentially a funeral director who plays a key role in the Taoist funeral service. In addition to providing management services, we experienced in the practice of Taoist funeral services in Singapore, which is why we are available to offer advice and assistance to family members to ensure the funeral goes smoothly. In order to manage all the funeral arrangements required for a Taoist funeral, you can take advantage of our Taoist funeral services. We have advisers who are familiar with the rituals and Chinese funeral traditions and you can be assured of the right advice whenever it is needed. To find out more, talk to us.
Taoist Funerals
At Taoist funerals, it is also customary to rinse the body with a damp towel and talcum powder. Then the deceased is wearing the finest linen. The color of the fabric may vary, but we have not explicitly used the red color. Traditionally, Taoists claim that they focus more on wellbeing and survival than on the afterlife. The aim was to attain immortality, with the practice and cultivation of various tasks categorized as Neidan and Waidan, particularly in early Taoism. There is little documented about Taoist funerals, even on the internet, combined with the fact that Chinese usually avoid talking about death. Therefore, with each passing generation, there is a pattern of Taoist funerals becoming more streamlined, with old, lost or sometimes forgotten rituals.
Taoism Funeral Rites & Rituals
Taoism coexisted with Buddhism and Confucianism for much of Chinese history. Therefore, some Singaporean family Taoist traditions have a Buddhist influence. Examples include monks and Taoist monks who perform rituals. Food and fruit offerings to the bereaved are common at Taoist funeral services. At Taoist funeral services, candles, lamps, tea, rice, and water are all frequent items. Each item has a symbolic value, and the rites done at a Taoist Funeral are frequently designed to ensure that the deceased's soul has a seamless transition to the hereafter. Special clothing known as is also commonly worn by persons who died at a specific age and are regarded to have been blessed with a long life and numerous kids. This specific garment has seven layers and is of exceptional quality, and it is typically worn by the departed to keep them warm even in the hereafter. In some circumstances, a pearl is placed in the mouth of the deceased. The pearl is considered to protect the corpse of the deceased and to be an enabling element in Hell because of its lustrous characteristics. A sack of rice is also placed on top of the coffin in some dialects. In Singapore, the procession of a Taoist Funeral requires the use of paper items. Money, houses, mountains, servants, electrical items, and forms of transportation are all examples of paper products. In fact, it is assumed that anything we require in this life on Earth will also be required in the next.
Hokkien Funeral Rites
Hokkien mourners execute a purification rite involving "purchasing water" from the Earth Deity using joss paper and monies as the deceased is encoffined. A funeral oration is delivered on the day of the funeral, and family members make offerings as they are called to the altar according to their relationship to the deceased.
Teochew Funeral Rites
The most important ceremony of a Teochew burial is Crossing the Bridge, in which a priest carries the departed's Soul Lantern and leads the family across the bridge into the afterlife.
Hakka Funeral Rites
The altars in Hakka funeral services are different from typical Taoist funeral services. In addition, the priest read texts in Hakka, with subtle differences in meaning as compared to dialect group.
1. Custom-made Luxurious Hearse
We have the first and only one of funeral hearse in Asia, it is luxurious and stunning custom hearse for families who wish to send their loved one off in style.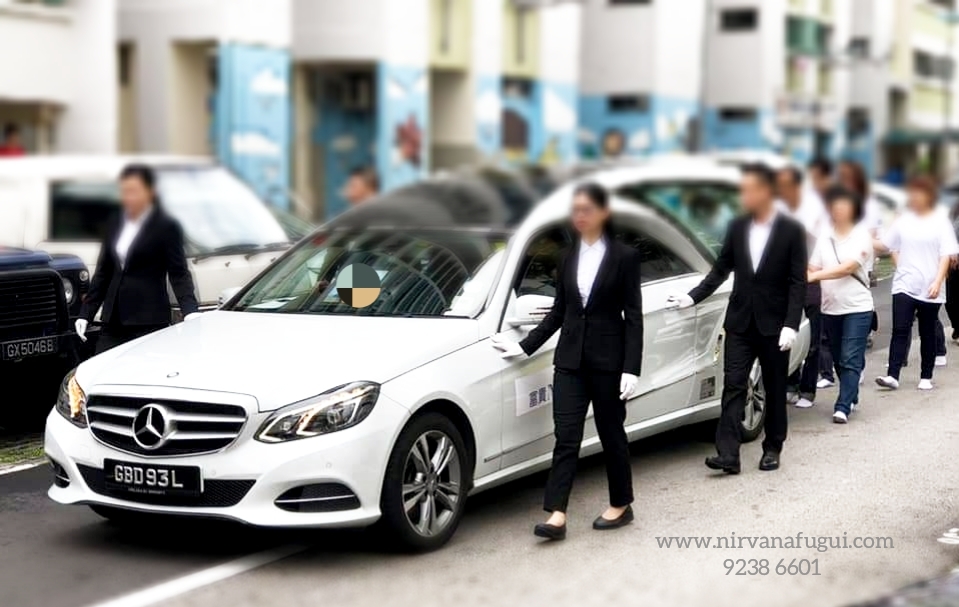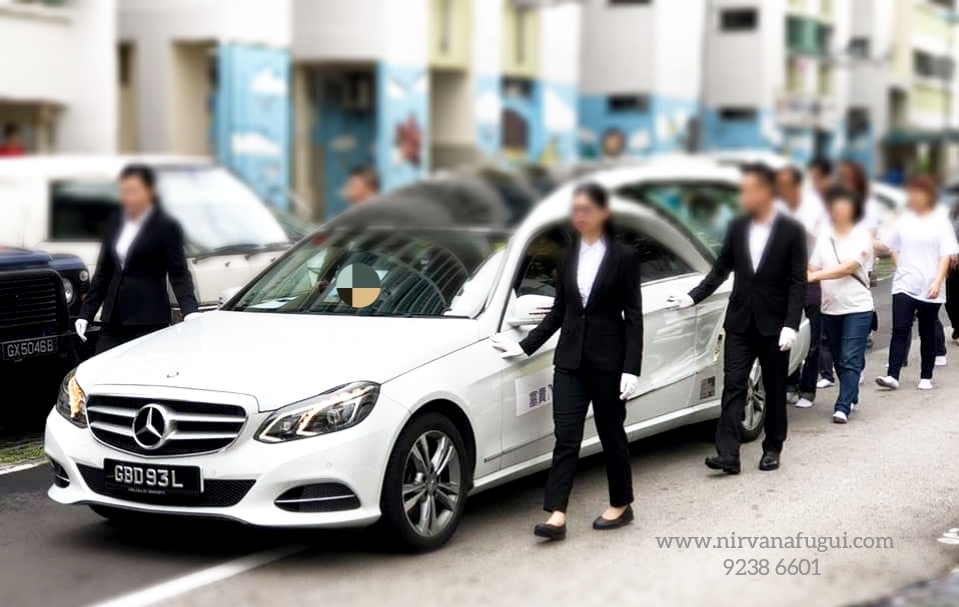 2. Female Embalmers
Nirvana Memorial Garden has a team of professionally trained female embalmers and beauticians. It is a form of respect especially for female deceased.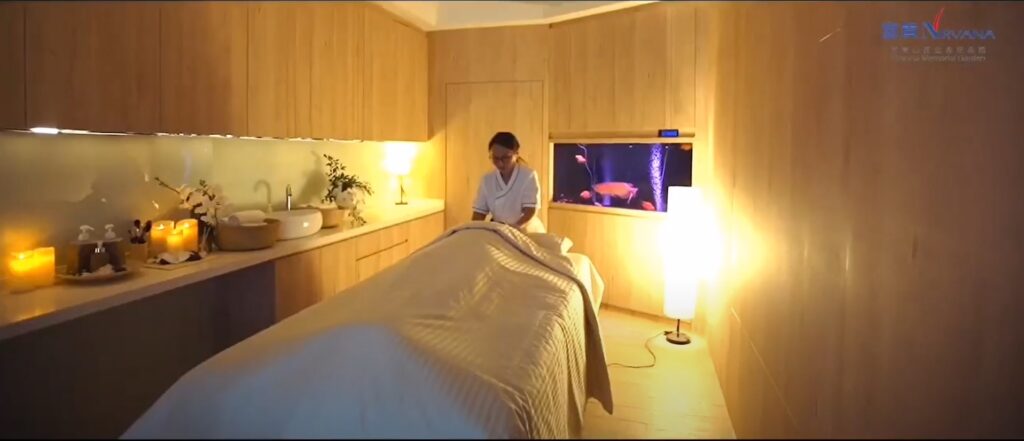 3. Professional Taoist Funeral Ceremony
Nirvana Singapore has a professional funeral ceremony team to prepare the Taoist Funeral ceremonial items and arrange the Taoist Funeral Services. The services include: preparation of Memorial Ceremony, coordination of Funeral Services, Funeral Procession Service, Cremation and Ashes Collection.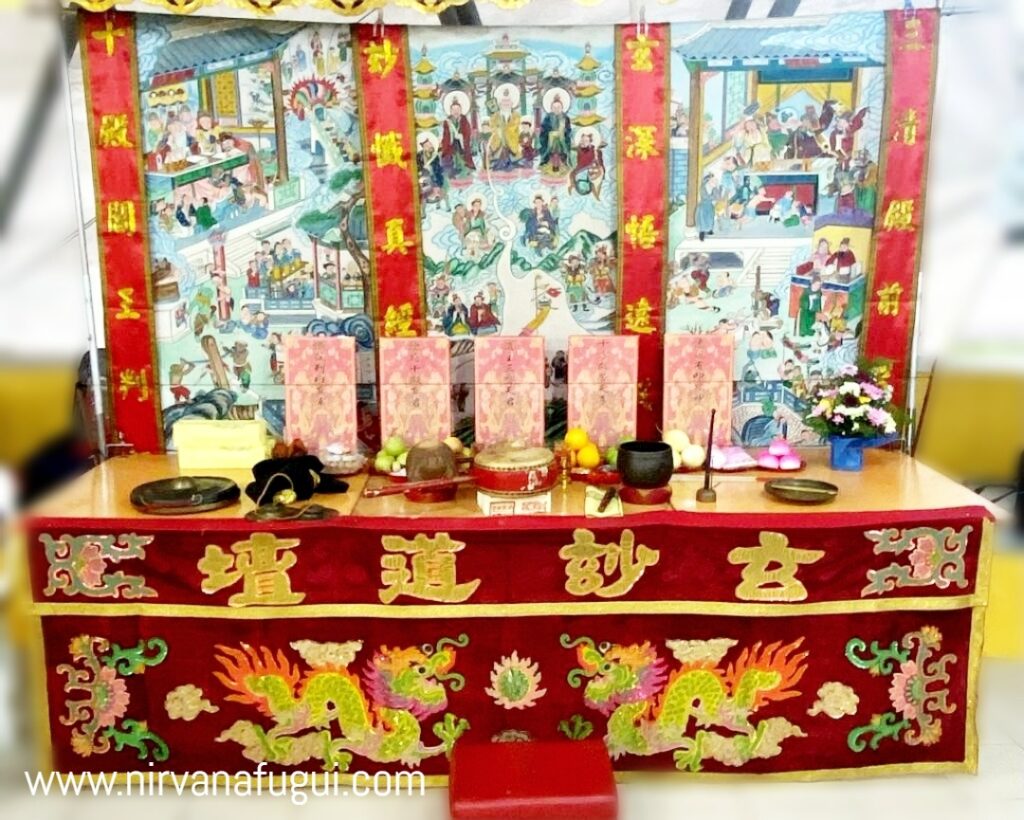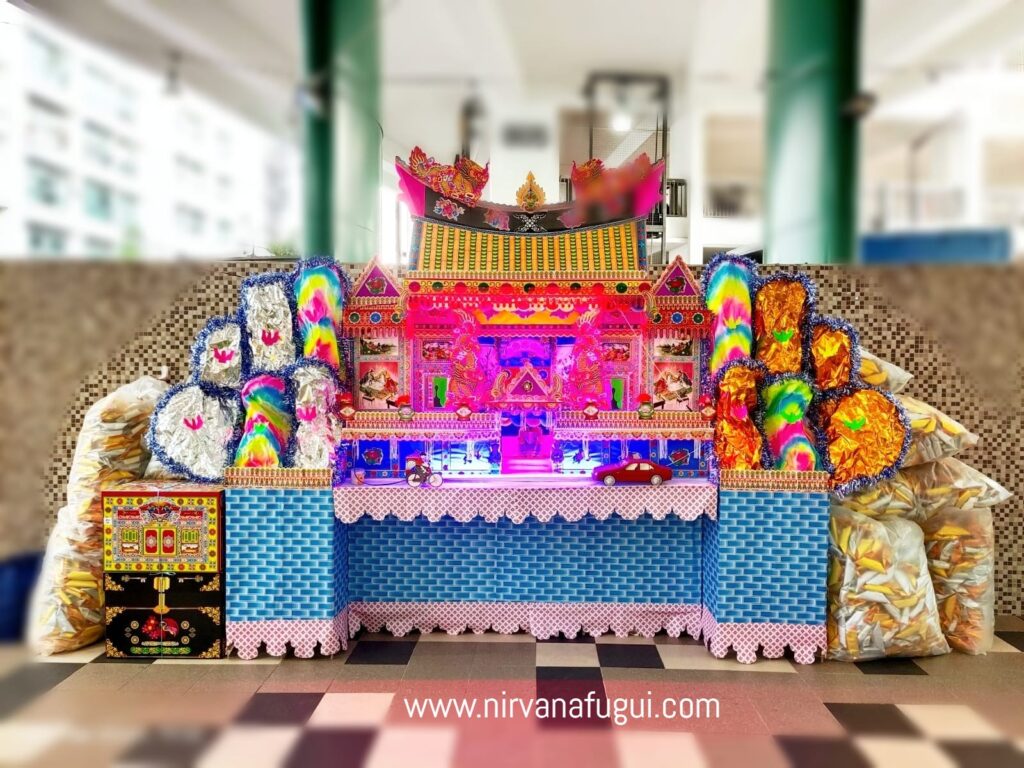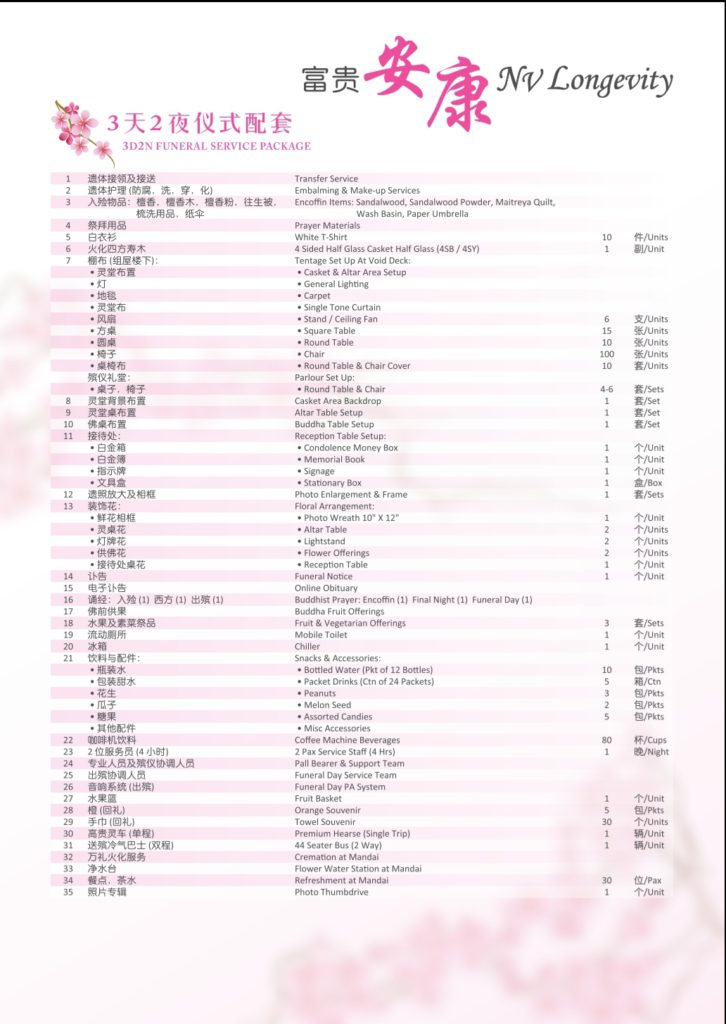 Taoist Funeral Services Procedures
– Transferring of loved one into our care from home or hospital.
– Funeral Director to meet and provide briefing for family.

Taoist Funeral at HDB Void Deck
– HDB Void Deck Tentage, Tables, Fans, Chiller and Chairs.
– Reception table, Condolence Money Box, Memorial Book, Signage, Stationary Box;
– 1 Unit of elderly friendly mobile toilet (applicable at funeral services in the HDB area.)

Taoist Funeral at Funeral Parlor
– Rental of funeral parlor at Sin Ming Drive is included if family does not wish to conduct a wake at void deck. (Subjected to availability)
– Round Table and Chair Cover
Casket Services
– Encoffin Items include Sandalwood, Sandalwood Powder, Maitreya Quilt, Wash Basin, Paper Umbrella
– 4 Sided Half Glass Casket Half Glass (4SB / 4SY)
Funeral Wake Setup and Accessories
– Taoist and Altar Table Setup.
– Casket Area Backdrop
– Photo Enlargement and Frame
– Floral Arrangement with photo wreath 10" x 12"
– Funeral Notice, Online Obituary
– Snacks and Accessories like bottled water, packet drinks, peanuts, coffee machine beverages, etc
Embalming and Makeup Services
– Loved one will be sent to our embalming centre for cleansing and cosmetology services, performed by our professional female embalmer.
Funeral Day Service
– 1 funeral director to host the service.
– Professional pallbearers and support team
– 2 pax service staff (4 hours)
– funeral day service team
– funeral day PA system
– premium hearse (single trip)
– 44 seater bus (round trip)
– cremation at Mandai
Post Funeral Service (for customers who purchase our columbarium niche)
– Ash collection service
– 49 days An Lin Services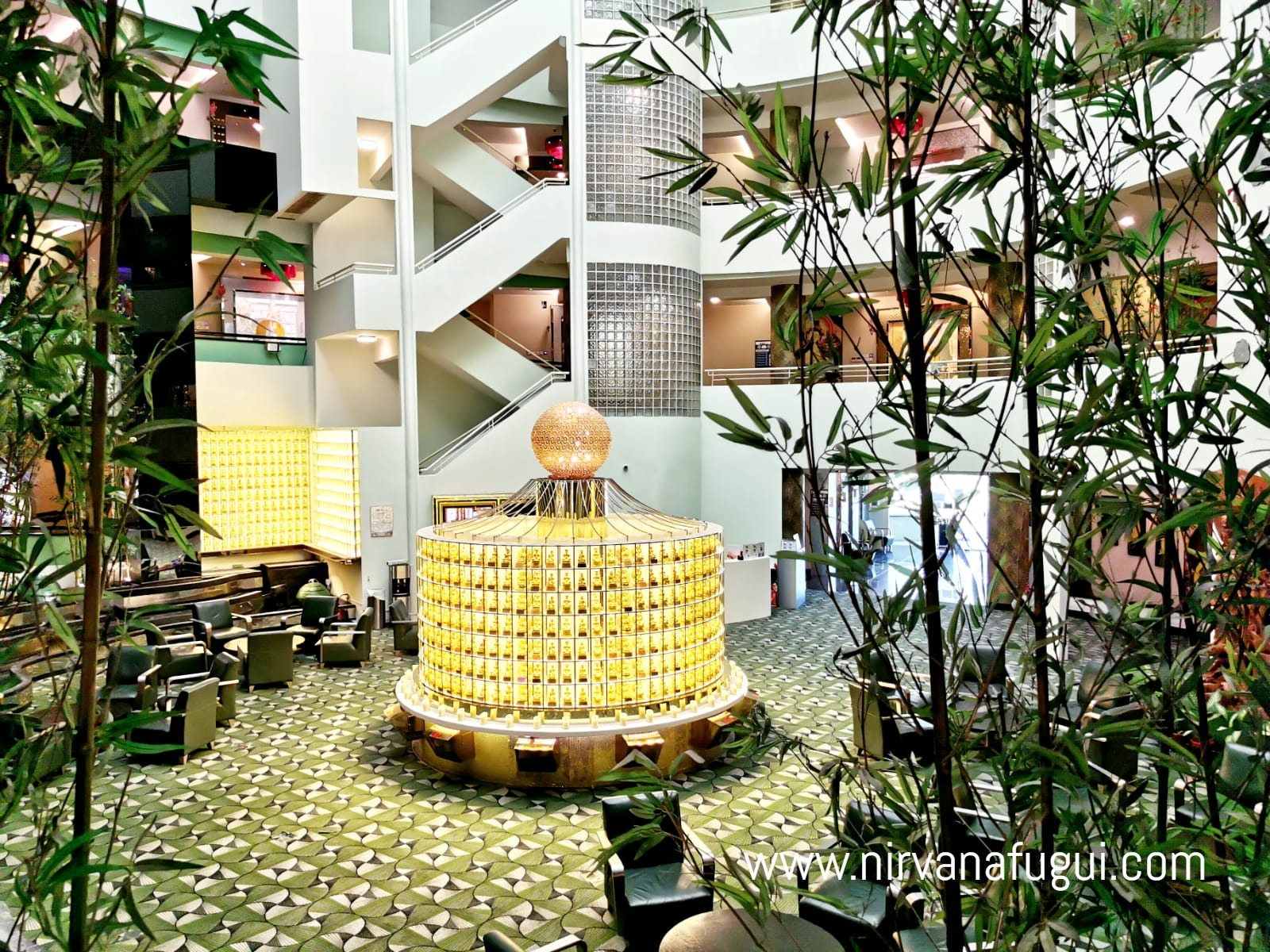 Since its establishment in 2009, Nirvana Singapore has provided its …