Our one-stop Taoist Funeral Service is usually conducted based on the customer's dialect. It could be customized and carried out based on the Hokkien, Teochew, Cantonese, Hainese or the Hakka funeral procedures. Our funeral director will guide you in carrying out such services.
Nirvana Memorial Garden offers personalized Taoist Funeral Services, including casket, funeral hearse, coordination of memorial ceremonies, cremation urn, and ashes collection at the crematorium. Nirvana Memorial Garden was the award winner for the title of "Largest Bereavement Company in Singapore" by Singapore Books of Record (SBOR) in 2018.
Nirvana Memorial Garden has a team of professionally trained female embalmers. They are dedicated to provide sanitization, presentation, and preservation for the deceased body.
Nirvana Memorial Garden promotes the funeral pre-planning and offers the monthly instalment at no interest rate. The price is transparent, and the checklist is followed and tracked from beginning till completion of funeral services. They help minimize the stress of logistical matters the family has to go through during the funeral wake.
Nirvana Memorial Garden provides fully equipped facilities and exemplary service from the heart. They have the best Taoist design columbarium niches for urn placement. Their columbarium niches are elegant and well-maintained, highly recognized as the Final Resting Place for the departed loved ones.
HIGHLIGHTS
Taoist funeral services
Taoist columbarium niches
Lady embalmers
No hidden charges
Post funeral services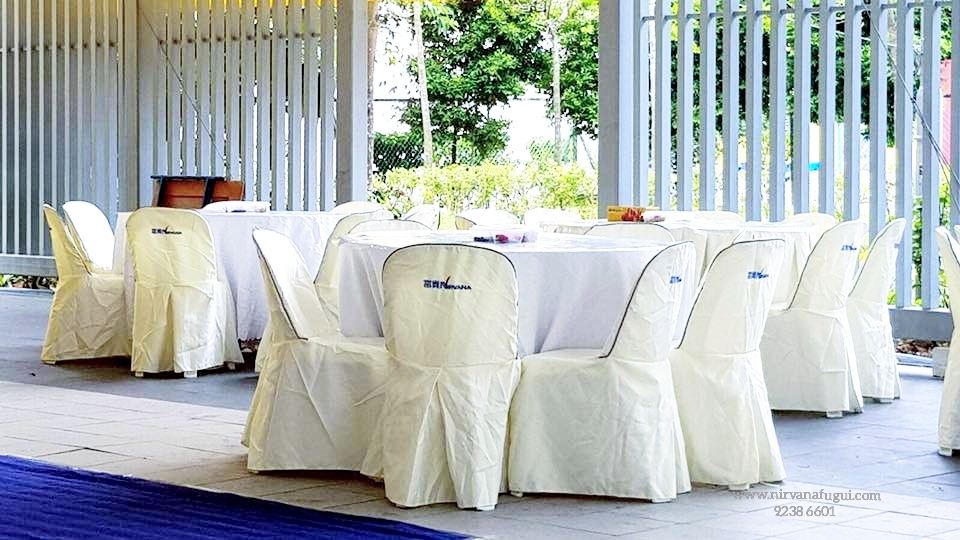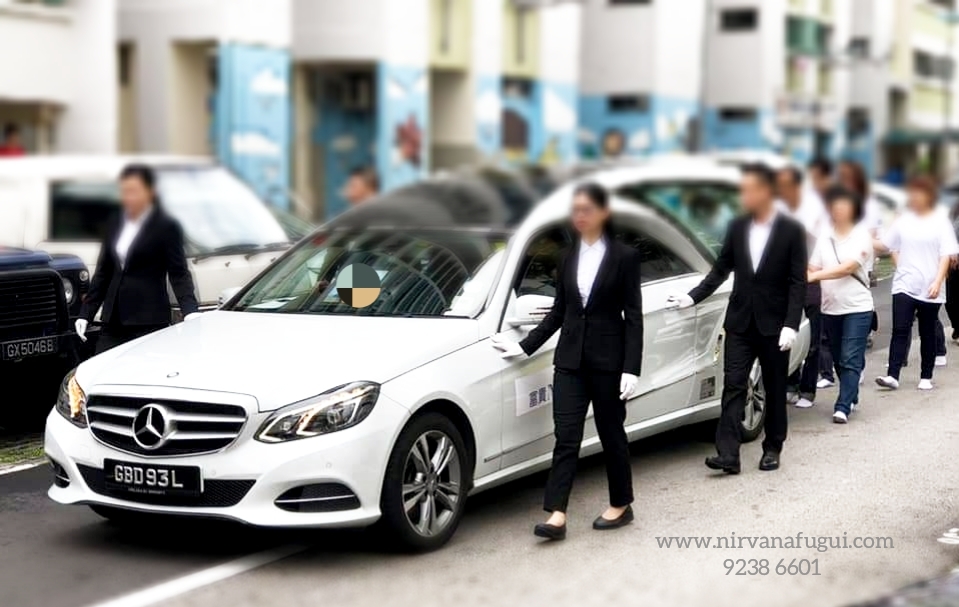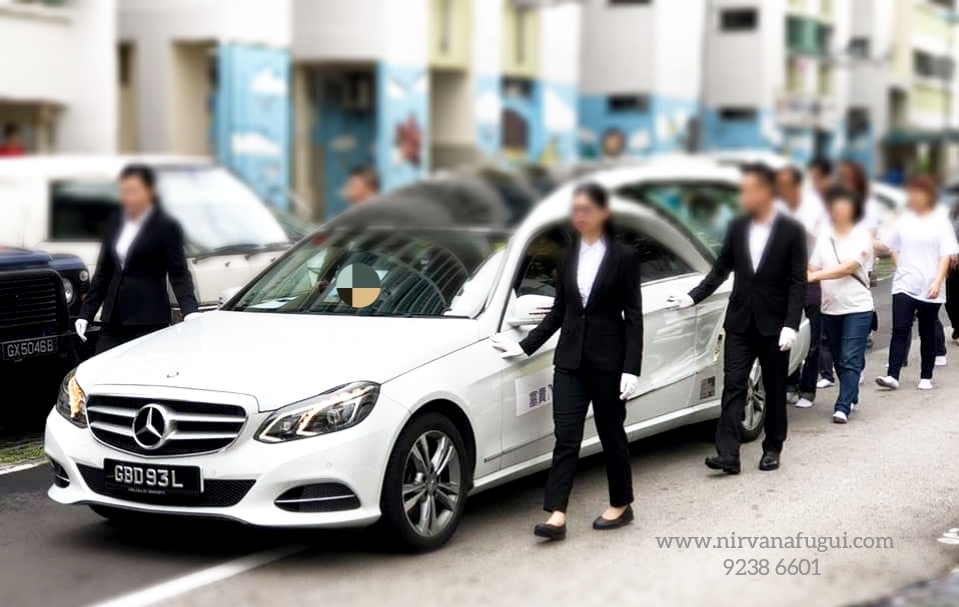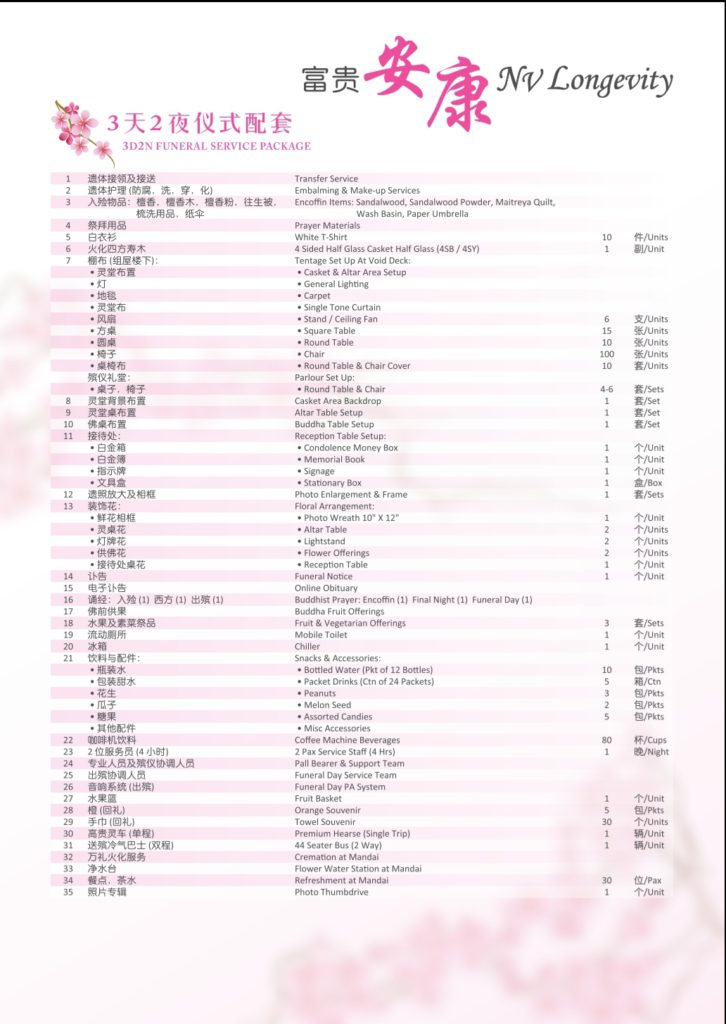 Taoist Funeral Services Procedures
– Transferring of loved one into our care from home or hospital.
– Funeral Director to meet and provide briefing for family.

Taoist Funeral at HDB Void Deck
– HDB Void Deck Tentage, Tables, Fans, Chiller and Chairs.
– Reception table, Condolence Money Box, Memorial Book, Signage, Stationary Box;
– 1 Unit of elderly friendly mobile toilet (applicable at funeral services in the HDB area.)

Taoist Funeral at Funeral Parlor
– Rental of funeral parlor at Sin Ming Drive is included if family does not wish to conduct a wake at void deck. (Subjected to availability)
– Round Table and Chair Cover
Casket Services
– Encoffin Items include Sandalwood, Sandalwood Powder, Maitreya Quilt, Wash Basin, Paper Umbrella
– 4 Sided Half Glass Casket Half Glass (4SB / 4SY)
Funeral Wake Setup and Accessories
– Taoist and Altar Table Setup.
– Casket Area Backdrop
– Photo Enlargement and Frame
– Floral Arrangement with photo wreath 10" x 12"
– Funeral Notice, Online Obituary
– Snacks and Accessories like bottled water, packet drinks, peanuts, coffee machine beverages, etc
Embalming and Makeup Services
– Loved one will be sent to our embalming centre for cleansing and cosmetology services, performed by our professional female embalmer.
Funeral Day Service
– 1 funeral director to host the service.
– Professional pallbearers and support team
– 2 pax service staff (4 hours)
– funeral day service team
– funeral day PA system
– premium hearse (single trip)
– 44 seater bus (round trip)
– cremation at Mandai
Post Funeral Service (for customers who purchase our columbarium niche)
– Ash collection service
– 49 days An Lin Services