There is a sweet bonding among the siblings and it should not be taken for granted. Family affection is born by nature and bonded by the same root. The intensity of the family affection is built over years. The different desire and living styles become the test to prove the true or false of the family affection.
I had witnessed the deep affection between this sister and her brother. This sister always missed her younger brother who had passed away. She hoped that his next life would be pain-free.
The sister took care of her younger brother for years since he was sick. Based on her affordability, she fork out her own money to buy the Funeral Service Package, single lot Columbarium Niche and Ancestral Tablet for her brother in Nirvana Singapore.
In the photo, she was looking at her younger brother's urn at the temporary location before the construction of new columbarium suite is completed.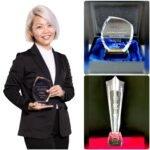 About Nirvana Singapore 富贵山庄
As one of the largest privatized columbaria in Singapore, Nirvana Singapore sets to provide a conducive and comfortable environment for individuals to worship their deceased loved ones.