Finding the right Buddhist funeral package may be relatively tougher especially for family members of the dearly departed. When the departed did not do his or her pre-planning or communicate to the family members about choosing the right type of Buddhist funeral for him or her when the time comes. In this article, we are going to look into two perspectives: one from the pre-planning point of view, and the other from the family members' point of view upon the death of their loved one.
Choosing the Best Buddhist Funeral Package When You Are Doing Your Pre-planning
In our previous article, we mentioned the benefits of pre-planning one's Buddhist funeral package in advance as well as the right time to do it. During this stage, you are in more control of what your funeral is going to be. You will also have more time and freedom to find a reliable Buddhist funeral services company to do the job. There is no need to be too rushed in making the decision at this stage; take your time to browse through the available Buddhist funeral packages and find the one you think is the best. Here are some tips which might be useful to you.
#1 Find Companies That Are Specialized in Buddhist Funeral Services
It is important to find a funeral services company that is highly trained in providing professional Buddhist funeral services. During the consultation period with the funeral directors, you can take the opportunity to ask them deep questions about Buddhist fundamentals and rituals. Though it can be seen as testing their industry knowledge, you have the right to do that because you want your funeral to be good.
In Buddhism, death symbolises rebirth or even Nirvana (enlightenment) from samsara. Hence, you will need someone, practically a Buddhist practitioner, who understands both the Buddhist funeral practices, and the principles of Buddhism. The last thing you would want is someone who only knows about the rituals on a surface level; and not clear about the fundamentals. From here, you can shortlist your top three Buddhist funeral services companies and proceed to the next step.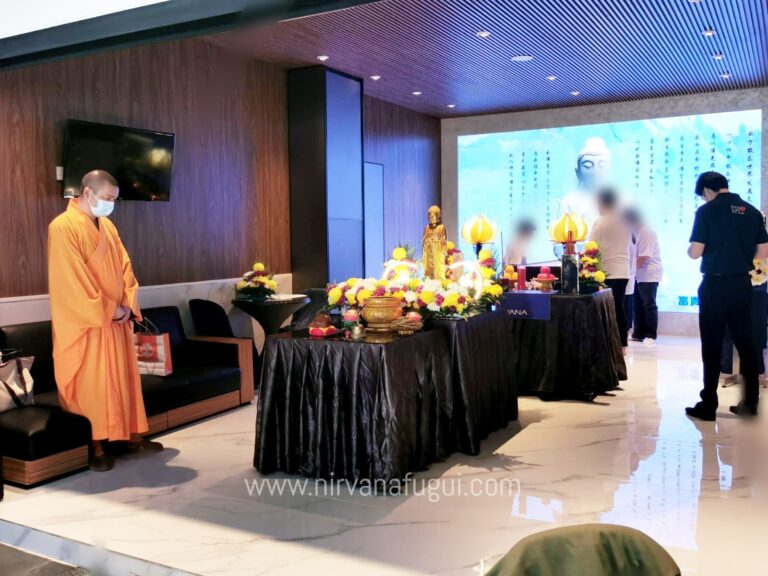 #2 Pay a Visit to See How They Organise a Buddhist Funeral
Now you have shortlisted your top three choices, it is time to pay a visit to see how these companies organise the Buddhist funeral rites. There is a saying, talk is cheap. An eloquent funeral director can paint beautiful pictures in the sky with his or her words. Some may get your attention with very low attractive Buddhist funeral package prices that come with many perks. However, if the actual things are not what they said, then it is not too okay.
So, take your time to see how your shortlisted Buddhist funeral directors work on the actual ground at the funeral wake, or in a demonstration. Moreover, during the funeral ceremony on the last night, observe the ritual like an eagle. See how the company welcomes the guests; how professional they are in ushering the crowd; how neat the funeral setting is; what food they cater; and how senior is the Buddhist priest who is leading the ritual.
By understanding how a professional Buddhist funeral director organises a funeral, you can therefore be more confident in selecting the best one for you. But wait, there is one more step or question that you need to ask.
#3 Seven Cycles of 7th-day Offering
In Buddhist practices, we learn about the concept of samsara, the cycle of life, death, and rebirth. The period between death and rebirth is 49 days. Moreover, prayers must be conducted for the newly departed every 7 days, from the first seventh day (头七) till the last seventh day (尾七). These seven prayers ceremonies, also known as Jiling (祭灵) are important as they help to better facilitate the departure journey from death to rebirth, or even nirvana.
For Nirvana clients, the urns of the newly departed are kept in the Ji-Ling temple columbarium during the 49 days period. Our priests will then send prayers to the newly departed during these 49 days. And after that, the ashes will be relocated to the actual columbarium as the final resting place.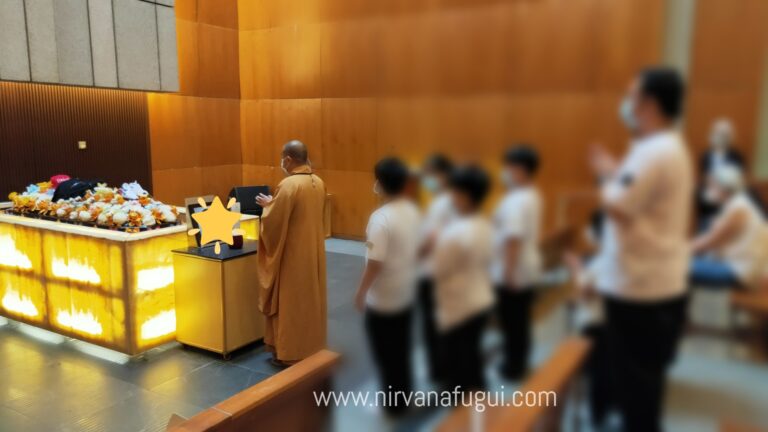 Choosing the Best Buddhist Funeral Package for Your Loved One
In this section, it is written for family members who are finding a Buddhist funeral package for a recently departed loved one. Time is often a challenging issue at this period of grief. We may not be able to make the right decision because at the same time, we are grieving for the loss of our loved ones.
The following three tips are paramount to help you make a better decision within a short period of time.
#1 Be United
Upon the death of a loved one, siblings must be united and discuss in a composed manner on deciding on the funeral arrangement you want to do for your departed loved one. Respect the departed loved one's wishes on planning a funeral according to what he or she wants.
#2 Be Calm When Choosing the Buddhist Funeral Package
During this period, you might rush to find a Buddhist funeral company. And want to quickly decide after you glanced through a few websites. We advise you to be calm especially during this time. Look into the details of the Buddhist funeral packages provided by the companies. Ask them key questions such as their experience, whether they are specialised in Buddhist funerals, the name of their caterers, the name of the temples where the priests are, and ask them to show you some pictures or videos of their work.
Sometimes, low-priced funeral packages do not mean good value for monies. This is because the quality of the services or funeral essentials may be replaced by substandard ones. Hence, it is important to ask the key questions as mentioned in the previous paragraph.
#3 Shortlist Three Choices of Buddhist Funeral Services Provider
After you and your siblings have gathered the information, try to shortlist your top three choices based on their specialised knowledge in Buddhist funerals. From there, you should be able to select the best possible Buddhist funeral company that fits your budget comfortably.
In summary, always do your due diligence when choosing the best possible Buddhist funeral package whether for yourself during the pre-planning stage; or for your newly departed loved one.
Click here to find out more about our exclusive Buddhist Funeral Package.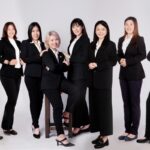 About Nirvana Memorial Garden 富贵山庄
We provide a serene final resting place for the newly departed with premium quality niches and columbarium facilities. We also provide professional Buddhist funeral services.