I was told this 10% +10% promotion ended on 20 June!
富贵创业说明会
Attended this seminar on my Friday after works. It was a nice experiences and got to know the products and benefits of doing this business!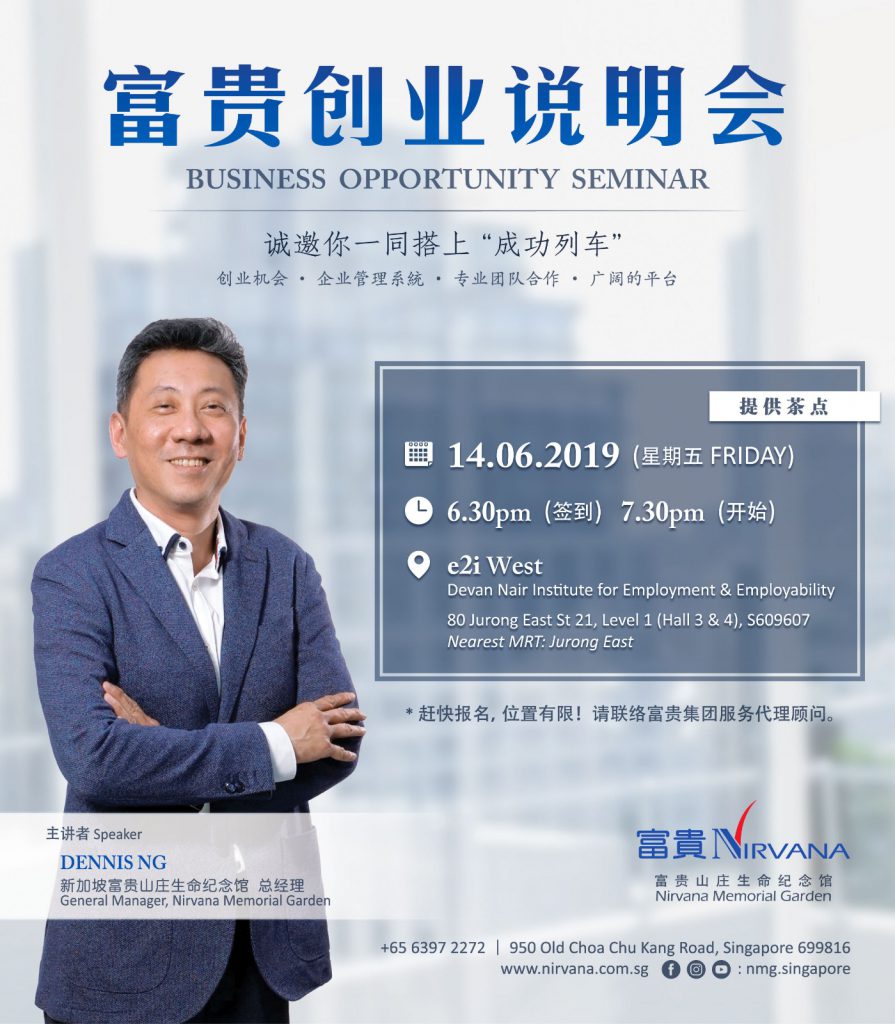 Located at Old Chua Chu Kang (CCK), Nirvana Memorial Garden is the most luxurious and modern columbarium in Singapore. Build with fully air-conditioned and the auspicious elements of Feng Shui, Nirvana Memorial Garden is a splendid place to provide customer with a total peace of mind.
As a one-stop funeral services provider servicing the residents of Singapore, we know that the memories of the our loved one always remain deeply ingrained in our hearts. However, for most families, keeping the memories of their departed ones in hearts is not enough. Honoring their departed ones with a permanent memorial space usually plays a huge part in their healing. At Nirvana Memorial Garden Singapore (富贵山庄新加坡), we are taking great pride in helping families find a permanent way to honor the souls of their dear departed ones. We offer a broad range of resources and products to support them once they lose their loved ones, and also in the weeks, months, and years to come.
In many families, discussing one's mortality is an extremely uncomfortable topic. But it is a topic that should be discussed and planned for well in advance.  
Most people always say, "Let's think about it when that happens." But when that happens, do we really have time to think? It is important to realize that the ritual of a funeral and/or memorial service is not for the deceased but for the living. 
Relieve loved ones from financial burdens, stress and confusion

Prevent the family from making costly and hasty decisions

Help to hedge against inflation and ultimately save money

Allow individuals to decide their preferred service, choose their own rites and rituals.
Columbarium is a room, building or wall that houses the ashes of people who have been cremated. The ashes are then stored in the container which are commonly called Urns. These urns are in turn stored in the compartment which is also called Niche. Niches are enclosed spaces that resemble dove houses. 
At Nirvana Singapore Columbarium 富贵山庄(新加坡), each Niche carries a unique design with individuality in mind. The spacious and comfortable relaxation resting exudes a strong sense of harmony. Such an ideal final resting place fosters prosperity, wealth, health and longevity for posterity as the departed rest in peace. Feel free to choose from the single, double or family urn compartments at affordable prices. Our columbarium cater to the Buddhists, Taoists, Christians, Catholic and Free Thinker.
Nirvana Memorial Garden offers the Columbarium which is built with state-of-the-art facilities. It is meant for provision of a pleasant and comfortable environment for the deceased and their kin. There is a cafeteria established to comfortingly bring families together to enjoy a drink or a meal after leaving their loved ones to rest after visiting them.  
Singapore Nirvana one stop funeral package offers worship services, prayer services, paying respect to the spirits of the deceased. This means families who wish to perform special services for their loved ones get the opportunity to do so and are even provided with amenities, such as praying halls so they can hold their ceremonies or services privately.
Our funeral services packages are tailored according to our customers' respective cultural and religious practices. We offer our funeral services packages both on an as-need and a pre-need basis. As-need services and products are sold to customers who, at the time, have immediate need for the services and products for deceased loved ones. Pre-need services and products are sold to customers who wish to pre-arrange their own or their loved ones' funeral services. The funeral services cater to the Buddhists, Taoists, Christians, Catholic and Free Thinker.
The Columbarium also offers follow-up services (after funeral services) for families who wish to make offerings, prayers, and other services to departed loved ones during special occasions such as anniversaries, Chinese New Year, Vesak Day, and other special dates and occasions. 
Ancestral Tablet has been the very symbol of Chinese ancestral worship that dates back to the ancient Shang Dynasty.
Ancestral Tablet takes up the central position at the altar of any traditional Chinese home. It is a sacred item that connotes the virtue of filial piety. Ancestral Tablets in Nirvana Memorial Garden (富贵山庄新加坡) are good alternatives for couples who do not have time to attend to the worship rituals at home.
Nirvana Memorial Garden provides different build material of funeral urns (or cremation urns), comes with different colors and prices. When customers buy the columbarium niche from Nirvana Singapore, the urn price is discounted.
Nirvana Memorial Garden provides the prayer services of lighting the Little Buddha Worshiping (供养佛灯), to bless the longevity and fullness to the customers' family.
Brief Introduction
Nirvana Memorial Garden Singapore was invested by Nirvana Asia Group in Malaysia Nirvana Group in 2009. Total S$50 million (approximately MYR 120 million) was used to rebuild the columbarium temple, called 安乐山庄, located at the old Choa Chu Kang. After the renovation completed in 2011, Nirvana Memorial Garden Singapore houses more than 40,000 "six-star" columbarium niches. Currently, the Block B (Main Hall) of Nirvana Singapore is under going the major reconstruction which the floor level will be increased from two to nine levels, the renovation is expected to be completed in 2023.

In 2012 Asian Funeral Exhibition (AFE), Nirvana Singapore won many awards such as "Outstanding Brand of Asian Funeral Service Industry" and "Outstanding Award for Multi-Asian Expansion". In 2016, Nirvana Singapore appealed successfully and was granted by Singapore government to extend the lease term from 30 years to 99 years, from the original 2029 to 2098! In September 2018, Nirvana Singapore have been awarded the title "Largest Bereavement Company in Singapore" by Singapore Books of Record (SBOR).

Nirvana Singapore is situated at the ideal Feng-Shui location. The excellent environment and intimate customer service make the perfect final resting place for the departed love one to rest in peace. Also, the relatives and friends could enjoy the feeling of "home" environment. The six-star hotel-like design breaks the tradition, allowing ancestors to rest in a beautiful and quiet place. Also, it provides a comfortable environment for future generations to pray their ancestors comfortably. It offers the perfect facilities combine modern high-tech and the Feng-Shui layout.

Reconstruction for New Buildings
Started from January 2020, Nirvana Singapore is undergoing major reconstruction till now. The entire project costs $500 million and will be built into Phase I and Phase II. The current Phase I consists of Building B which cover more than 40,000 square meters and two original buildings of Building A and Building C on two sides. Through the light and shadow effect the central sky high art glass of Building B is like a waterfall falling from sky. The grille shape of Building A and C on both sides create the effect of being surrounded by "mountains". The five-story external terrace of Building B echoes the aerial garden on the top of the original Building A and C on both sides. Later the high-rise parts of Building A and C on both sides will be completed in Phase II and integrated with Phase I as a whole building, as we are striving to create the No.1 brand in the industry.

Promotes the Chinese Cultures
Nirvana Singapore promotes the core values of Chinese cultures that include "Filial Peity" and "Goodness". With the belief of respecting and caring for life, Nirvana Singapore becomes the navigator of the last journey for departed loved ones. Nirvana Singapore focuses on filial piety of Confucianism, aiming to inherit this traditional Chinese values from generation to generation. Nirvana Singapore organizes annual ceremonies to celebrate cultural festivals, including the four most important festivals, Chinese New Year, Qing Ming, Zhong Quan and Chong Yang.

Our Missions
Nirvana Singapore often helps the families to find a permanent way to commemorate their loved ones, and provides a wide range of resources and products to support them. Nirvana Singapore offers different columbarium niches than any other columbria in Singapore to meet individual religious needs and financial capabilities. The design of columbarium niches could also be customized according to different individual favorites.

One-stop Funeral Service
Nirvana Memorial Garden Singapore is a private columbarium in Singapore. Nirvana Singapore provides professional funeral services, dignified columbarium niches, and prayer services to ancestral tablets.

Well-known Brand
With more than 27 years of experience, Nirvana Group is Asia's largest funeral enterprise. In recent years, Nirvana Group has reached international level, extending its tentacles from Malaysia to other Southeast Asian countries such as Singapore, Cambodia, Indonesia, Thailand and China.

Pre-planning in Advance
With the depreciation of the currency and the increase in the cost of living, pre-planning can make proper arrangements for one's own affairs before departure. Through pre-planning, the parties wisely made all arrangements during their lifetimes to avoid sudden blows to their families and the pressure on their families under the hasty preparation. What's more, the inevitable inflation in modern society can be expected to be decades later. Settling own ancestors is the filial piety that we should do, and it is also accumulating the core values for next generations!

After-sales Services
The meticulous service is the greatest comfort of family members in grief. The departed loved ones are still taken care by Nirvana Singapore even after many years.

Trust Fund Program
Nirvana Singapore established a trust fund with a total value of 30 million to ensure that the group achieves sustainable operation and protects the interests of customers. The lease has been extended from 2029 to 2098. This lease extension is an important milestone for Nirvana Memorial Garden's sustainable operation in Singapore.