Nirvana Memorial offers 'Pre-need' and 'As-need' Funeral Service Package (FSP). 'Pre-need' FSP is having discounted price compared to 'As-need'. 'Pre-need' FSP allows funeral pre-planning for earlier financial arrangements to ease the burden on family members. Pre-planning locks in future service at today's prices!
Nirvana Memorial Garden offers one stop funeral related products and services, including urns, cremation memorization products,handcrafted paper models, flowers, catering services, photography and other ancillary services. Funeral services could be provided at our funeral homes, third-party owned funeral homes, churches and the homes of our customers. Our funeral packages are tailored to our customers' requirements, according to their respective cultural and religious practices.
Why choose Nirvana Funeral Services Package?
Journey with Love, First in Asia signature spa treatment is delivered by a team of professionally trained female embalmers & beauticians dedicated to rendering their immaculate services with a genuine heart for the deceased body. This will leave a comforting imprint on the spouse, parents, and children who would feel more at ease with this service, respect for their departed loved ones.
3. Professional Funeral Services
Preparation of Memorial Ceremony

Coordination of Funeral Service and Memorial Ceremony

Funeral Procession Service

Cremation & Retrieval of Ashes
Question 1:Could we pay the funeral package with monthly installment instead of lump sum cash?
Yes, you can. You could have up to 48 months (4 years) monthly installment with 0% interest rate. You could pay by credit card or GIRO.
Question 2:Is there expiry date for the funeral package?
No. The funeral package could be used for many many years later (i.e. 30, 50, or any year). There is no expiry date.
Question 3:Do we need to pay additional amount when the price goes up due to living cost (i.e. GST, etc)?
No. The price of the funeral package is locked at current time. It will not change in future. That is the main reason most customers opt to buy now than later.
Question 4:Does the funeral package provide the bus transportation?
Yes, the package covers the cost of bus transportation. The bus has capacity up to 40 people. It will transport from funeral wake location to Mandai crematorium then back to funeral wake.
Question 5:Where will the funeral wake be held?
Customers could choose to have the funeral wake at HDB or funeral parlor provided by the package. The funeral parlor is located at Sin Ming area.
The main hall of Nirvana Memorial Garden is undergoing major construction. Once the new building is completed (estimated by 2023), there will be few funeral parlors at level 3 and level 4 inside the main hall. It is free of charge to use the new funeral parlor with our funeral package.
Question 6:How do we activate the funeral package?
The 24 hours hotline has been provided in the funeral package. Please call us or our hotline, we will be there to provide the immediate help. We understand that when the loved one departs, there will be tremendous emotion swings. Once received the call of activation, we will take care of the funeral procedures so that our customers could have peace of mind.
Why do we preplanning Funeral Services?
No pre-planning? What will happen?
Family member must make 70 to 75 decisions within the first 1-2 days hours of death! It is difficult to think rationally while making so many decisions within days of losing a loved one. Will the death cause the tremendous stress and burden to your family member?

Substantial amount of cash (yes, it is cash!) must be paid within days. Does your family member financially prepared for funeral services as well as columbarium niche?

No chance to select the type of gathering you desire, is this what you want?

No chance to select the funeral services you desire, is this what you want?

No chance to select the location and condition of Columbarium Niche, is this what you want?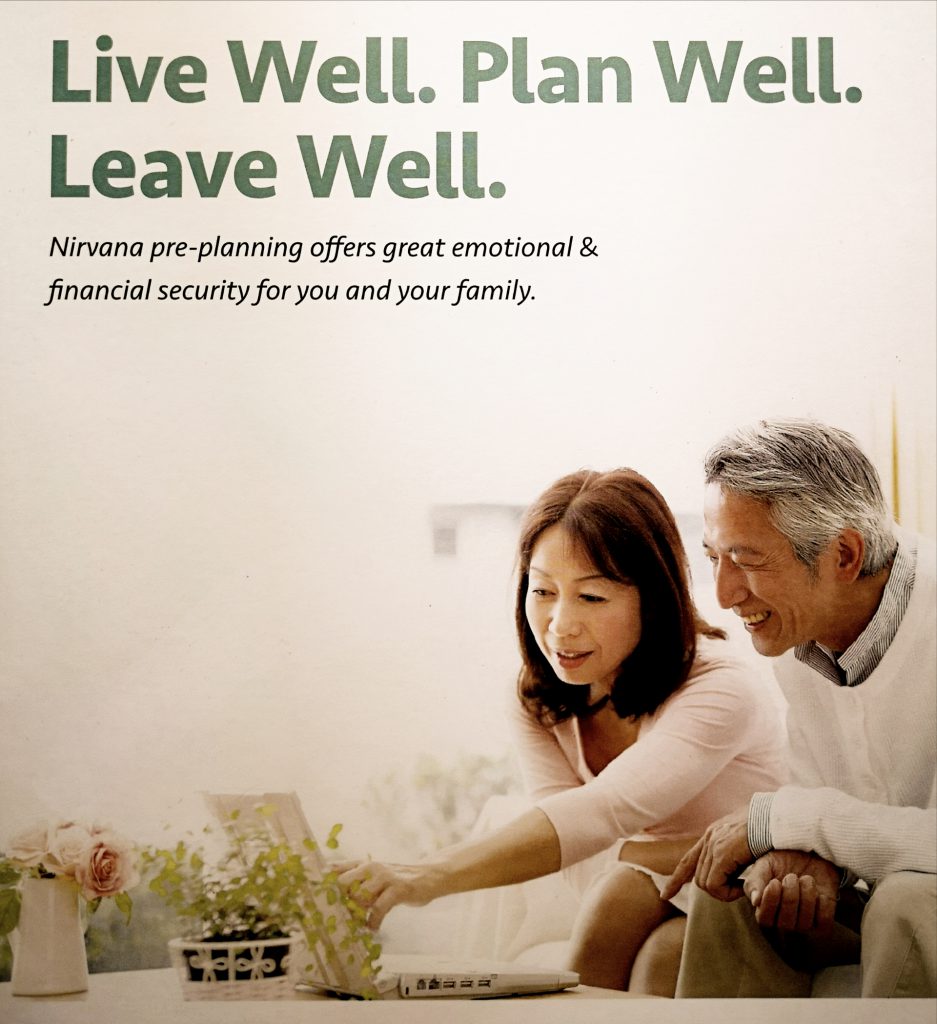 How You Can Save Money
Preparing for a funeral may seem intimidating, but making your plans and wishes in advance allows you to decide on the specific items you want and need. Because funeral expenses can place a financial burden on families, comparing prices for services and products ahead of time can significantly reduce the burden on your loved ones.

Why are funerals so expensive in the first place?
People often underestimate how much money and time go into planning a funeral. Everything from flowers to transportation is paid for days before the actual service. Other common funeral costs include:
A hearse to transport the remains to the funeral home

A casket or urn depending on the final resting place

A columbarium niche
Caskets alone can cost as much as few thousands or more depending on the type of material used.And these are only funeral costs. There may be unpaid medical bills as well as regular monthly bills such as mortgage payments and utilities. These expenses add up fast for your surviving loved ones.Let's look at what happens to families when there isn't a plan in place to help cover your funeral costs.

How not planning for your funeral creates a financial burden
If you're like most people, you probably haven't spent much time thinking about your funeral or the costs associated with it. You might have some money saved for a rainy day, but it's unlikely you have thousands of dollars set aside specifically for your funeral.
When you're gone, it's unlikely anyone other than your family is going to handle your final arrangements. But where will they get the money? Without financial preparations in place, they may be forced to use their own savings. How far will they extend themselves trying to give you the best funeral?
In addition to these questions, they'll be forced to figure out the following funeral logistics:
What clothing you'll wear

What jewelry you'll wear (and whether it should be buried with you or passed along)

What songs to play

What passages to read
These decisions will fall directly on your family if there is no plan to guide them. And you know your family members better than anyone. Everyone has an opinion about everything! The last thing you want them doing is fighting with each other during this emotional time. Families often emotionally overspend by hundreds – sometimes thousands – when planning a funeral.If you're lucky, they'll choose a respectable funeral home to carry out all your final arrangements. Unfortunately, there are funeral homes out there that have one objective: to make your family spend as much money as possible.

Ash Placement Options?
Singapore is a small island, due to the space limitation, majority of people will go cremation. These are the options for placing cremated remains:
Columbarium Niche

Sea Burial

Inland Ash Scattering
If you decide to place the ash in urn which will be located at columbarium or niche. It is the right time for you to visit various columbarium in Singapore. The prices of niche varies according to the facilities, location, size, etc. It is highly encouraged for you to make appointment with us to visit Singapore Nirvana before you make any decision. 
Sea Burial is a practice where cremated remains are dispersed into the sea, being carefree and having the sea as the eternal resting place. Some people choose sea burials because it provides a sense of peace and being close to Nature. The concept of Inland Ash Scattering is just introduced by Singapore Government recently.
Most people will go for the option of placing the ash in Urn which will be prayed in the columbarium niche. This gives the opportunity for family members and decedents to visit the columbarium every anniversary. 
Once you have decided on your final arrangements of Ash placement options, you can begin to shop around for a funeral home and director.
Without any expertise or prior know-how, families often resort to calling the nearest funeral home and making all the arrangements without shopping for funeral-related services. As a result, they often overpay for things like caskets and headstones. Be sure to speak with several different funeral homes to find one you are comfortable with. It is highly encouraged for you to make appointment with us to understand the Funeral Service Package that Singapore Nirvana is offering. 
Don't feel pressured to plan every detail of your service or memorial. Your loved ones will likely want to participate in remembering and celebrating you, so build guidelines and direction for them to follow, but allow them to contribute as well. So that, your loved ones could work closely with funeral home and director without any confusion.
If you have chosen Columbarium or Niche, you could share with your loved ones about the decoration of the niche. Besides, you could also discuss with them about the prayer sessions every year.
Some people visit and gather at Singapore Nirvana during Chinese New Year to pray for their ancestors together!  
Although planning your funeral in advance might seem morbid or even frightening, sharing your planning process with loved ones can make things go smoothly when it comes time to carry out your final wishes.