The deceased are entitled to their own dignified area, a calm and tranquil final resting place. At Nirvana Columbarium, we've created a space that's both dedicated to the deceased and hospitable to their loved ones. Here are 5 facts about Nirvana Singapore that you should be aware of.
1. It's Not Just a Buddhist Columbarium
Although we offer suites with Buddhist (or Taoist) themes, Nirvana Singapore is not a religiously exclusive columbarium. We also have neutral and modern columbarium niches and suites, each with its own distinct design. In fact, Nirvana Singapore offers funeral service to people of all faiths, in addition to providing religion-neutral suites and niches.
2. Good Feng-Shui Location at West Singapore
Nirvana Singapore is located along Old Choa Chu Kang Road, in the northwest corner, facing southeast. It has a wonderful, auspicious Feng-Shui arrangement. The space's architecture and design are also meticulously planned for optimal Feng-Shui effect, with entry placements capable of attracting and bringing in success, as well as protecting from disturbances.
3. Premium Quality Columbarium Niche and Suites
The columbarium and suites in Nirvana Singapore, each conceived and created with the help of top Feng-Shui experts, beautifully mix traditional Chinese culture with contemporary modern designs. For those seeking a more premium edge, there are sleek, white-based, clean-looking suites, as well as others with religious patterns and placements.
4. Relaxation lounges that are both comfortable and convenient
When come pay respects to departed loved one, one could relax in the resting sofas and reminisce about the times when spent together. The comfortable seats are in clean, routinely sanitized resting lounges, where one could idle away after a prayer session or converse with a close relative about shared experiences. There are diverse themes in each lounge and rest room, as well as green places that bring nature in or cafe-style seats and tables for visitors to relax.
5. Devoted Prayer Services for the Living and the Departed
Nirvana Singapore provides dedicated prayers services, caring for the souls of the departed and extending peace of mind to the living, in accordance with Chinese funeral rituals and adhering to Chinese traditions that recognize and prioritize "virtues of filial piety," as well as the inclusive religious cogitation of Buddhism. On Chinese New Year, Qing Ming Festival, Zhong Yuan Festival, Vesak Day, and the Winter Solstice, there are special prayer services and activities.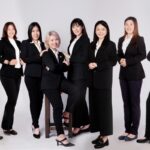 About Nirvana Columbarium
Nirvana Columbarium is a conducive and comfortable environment for individuals to send prayers and pay respect to their dearly departed.