Although this loving old couple were at their age of over 65 years old, they visited Nirvana Singapore in person a few weeks ago and chose the columbarium niche and ancestral tablet.
They were a pair of very open-minded elderly couple. They were having upcoming renovation in their house, but they were reluctant to discard their ancestor tablet at home. Hence, they decided to install the ancestral tablet in Nirvana Singapore first. Since they did not want to trouble their children, they decided to complete the preplanning of afterlife services themselves. They liked the comfortable environment and the one-stop services of Nirvana. Also, they were able to pay in instalments for up to 48 months with 0% interests. That helped to reduce their financial burden.
Taking advantage of this auspicious day, they finally "relocated" their ancestors from home to Nirvana Singapore. The couple was very fulfilled and finally had their worries resolved.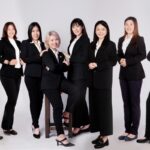 We are a team of professional life managing directors who has helped many families in completing afterlife planning or provided funeral services successfully.