That was a special task. The customer was a very polite lady. Through the conversation, it was understood that her aunt's cremation ashes had been left one year temporarily in the columbarium of Singapore. Her wish was to relocate her aunt's cremation ashes back to the Nirvana Memorial Park in Kulai Malaysia to rest in peace.
Due to the pandemic of Covid19, the Singapore-Malaysia checkpoint was closed. Many families who commuted the border frequently were unable to return to Malaysia to visit their relatives, let alone to transport the cremation ashes back to Malaysia properly.
With my ability and network in funeral industry, I managed to get the help from my counterpart in Nirvana Kulai to complete the transfer process successfully. In between, I faced some challenges in the regulations and documentations. Fortunately, with the passion and help from others, we overcame the difficulties. The whole procedures were carried out smoothly.
The customers were extremely happy and satisfied with the services and they are having peace of mind now.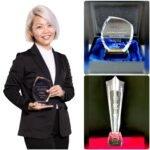 About Nirvana Singapore
Nirvana Memorial Garden is an integrated bereavement care provider for modern and private quality niches in Singapore, we provide good afterlife services.