I got to know this customer for quite some times. Through the conversation, it was realized that the children already bought the niches for their parents twelve years ago at An Le Memorial Park which was acquired by Nirvana Memorial Garden in 2009.
Their father passed away recently and they contacted me to complete the process of placing the cremation urn in the columbarium niche at Nirvana Singapore.
With my guidance, the whole process was so smooth and simple. They were having peace of mind in completing all the funeral procedures and rituals without any pressure.
I believe that is the advantage of doing the pre-planning for afterlife services.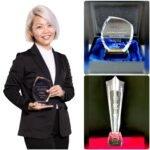 About Nirvana Singapore
Nirvana Singapore is one of the biggest private columbaria in Singapore. With quality facilities, it provides a conducive environment for people to pay respect and send prayers to their dearly departed.