In the worshipping room during the 49 days after death ritual, she silently prayed and placed a bunch of flowers in front of her husband who had just passed away.
While I was doing the customer service in the worshipping room, I just ran into a customer who was about to go home. She came to Nirvana Memorial Garden to visit her husband who had departed recently and was going through 49 days ritual according to Buddhist practice. I saw a bunch of flowers in her hand and I asked casually the name of the flowers. She told me it was called "Woodland Forget-me-Not" (is also called "勿忘我" in Chinese) which means never forget me. She told me that the flowers had been bought for 2 weeks, but they still looked fresh and charming.
Flower as its name. "Woodland Forget-me-Not" (or "勿忘我") – it represents an eternal heart, true love and unforgettable memories.
I think she wanted to tell her husband that her love for him is eternal, her unchanging heart will always be cherished in her memories.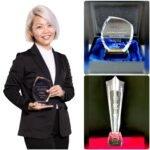 About Nirvana Singapore
Nirvana Memorial Garden is an integrated bereavement care provider for modern and private quality niches in Singapore, we provide good afterlife services.