His mother's cremation ashes were finally transported from Malaysia to Nirvana Singapore after going through the hardship.
His mother suddenly passed away in Malaysia a few weeks ago. His mother was of Chinese nationality and died unexpectedly in Malaysia. He is the only son who converted to be Singaporean citizen, but his father is staying far away in China. The whole thing happened very suddenly, making him helpless. Even he was in extreme sadness, he still had to solve many problems remotely, such as waiting for the police report, submitting the contact documents to the Malaysian and Chinese Immigration Department, and etc. Due to the sudden incident, he was completely unprepared. When the incident happened, he engaged Malaysia funeral service provider to handle the documents and the cremation procedures. After that, he contacted me to choose the columbarium niche as he planned to place his mother's ashes in Nirvana Columbarium.
However, because of the incomplete information, the entire cremation could not be carried out. Worst, the cremation was further delayed due to the national holiday of China embassy. The deceased could only be temporarily placed in the Johor Bahru morgue. Due to the complexity of the process and the long waiting time, I helped him to contact other funeral companies in Malaysia, hoping to expedite the cremation process and ashes transfer to Singapore.
I was moved by his son. He participated in the arrangement and cooperated throughout the whole process. He had no time to grieve, as he needed to involved in the funeral process alone and also took care the feelings of his father far away in China. Apart from that, he was busy with work, and he also needed to take care of his pregnant wife at home.
When the application for cremation in Johor Bahru and transfer back to Singapore were approved, it was almost six weeks later. We were so happy to finally bring his mother back to Singapore. In order for the deceased to rest in peace, I specifically applied to the management to place the ashes in the Prayer Suite (安灵房) till hundred days. There were morning and evening offerings in the Prayer Suite, and it was convenient for the son to visit the suite for his newly-departed mother.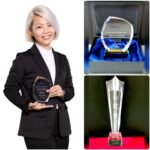 About Nirvana Singapore
Nirvana Memorial Garden in Singapore provides one stop quality bereavement care services. care services from funeral services to the columbarium.
.