I was very lucky to meet this family. The old father aged over hundred years old and he was a very blessed man to have nice children. Although the children have different religious beliefs, this does not affect the cohesion of their families.
The old father himself believes in Buddhism, his son has no religious belief while his daughter and daughter-in-law both believe in Christianity.
The old father had already pre-planned before his death and hoped that the funeral would be held orderly and in simple. The children also respected and followed the last wish of their old father to complete the funeral ceremony in the way he wanted. The entire funeral ceremony was performed in a semi-religious and Buddhist style.
This is a mix of combining both Chinese and Western style-funeral. The funeral lasted for three days. I went there on the first day to offer condolences and cremation procedures.
Although the layout of the funeral wake was simple but not sloppy. The funeral setup was decorated according to the daughter's ideas. The funeral wake was set against the background of lush green and elegant flowers and plants, and the pure white coffin and the mourning table were particularly harmonious.
The children also helped the old parents to choose and buy the double lot niche in Suite 65 of Nirvana Singapore. This is a columbarium suitable for any religion. The flower garden is the main theme of the suite. The design is generous, quiet and bright. As there is no religious element, this columbarium not only fulfill the father's wish to rest in peace in the Buddhist-dominated Nirvana Singapore, but also the children who believe in Christianity will not refuse to go to worship because of different religions.
On the day of urn placement ceremony, the Christian daughter specifically requested me to invite an experienced Buddhist Shifu to help with the Buddhist ceremony. For that moment, I could feel the old mother had finally put down the stone in her deep heart. I was moved by the old mother as she constantly expressed many thanks to me. I think the old mother was grateful to have the understanding and filial piety children. Due to different religions, the children spent a lot of thought and made the best arrangements for the old parents.
Nirvana Singapore has considered thoroughly for everyone. It does not only take care of Buddhism and Taoism, but also compromise to Christian families to find a suitable resting place.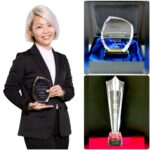 Nirvana Columbarium is the largest columbarium in Singapore. It has mature process in handling the niche and praying sessions after the cremation. It has columbarium that caters for any religion.