Husband and wife, two reply on each other. If you never leave me alone, I will follow you forever.
It is not easy for the husband and wife to go to the last moment in their life. Both have to go through the unknown ups and downs and resolving all the conflicts before being able to rely on each other throughout their life.
At the last moment before he left, he still worried about his wife. He particularly concerned whether someone would take good care of her or whether she got enough money for the rest of life, etc. On the order side, she wondered if he would depart in peace. She also hoped to dream about him and tell her: "I am fine in the other world".
Some of the Chinese believe that, it was not appropriate for the husbands and wives to send each other off in the Funeral. However, this was not a taboo for this old couple. She touched his ashes for the last intimacy contact while placing them into cremation urn, she sobbed and whispered to her departed loved one to rest in peace in Nirvana Singapore.
Every time when I met her, she would always share with me her stories with her husband. I was so moved with their relationship. As a Life Managing Director, I will always be there to listen to you and assume the responsibility of caring for life.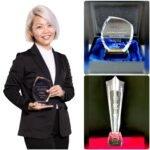 About Nirvana Singapore 富贵山庄
Nirvana Memorial Garden is an integrated bereavement care provider for modern and private quality niches in Singapore.