Looking at the columbarium niches of his parents, the 30 years old man cried silently.
He was a customer who lives in Australia. He contacted me to help him in fulfilling his wish. He wanted to relocate his father's ashes from other place to Nirvana Memorial Garden, so that his father's cremation ashes would be placed side-by-side with his mother. Since he lives oversea, we liased through the phone calls. I helped him to contact the NEA to complete the exhumation and ashes collection process.
His mother had passed away for many years and her niche was placed in Nirvana Memorial Garden since then. However, his father was buried elsewhere. That means, his parents had been separated and buried at different places for 25 years.
Today, after the 25 years of separation, I had successfully helped him to place his father's ashes next to his mother at Nirvana Singapore. He made the trip back from Australia purposely to complete the entire procedures. He looked at the niches of his parents and whispered to them with tears.
At that moment, I was very moved. I knew that I not only helped him to let go of a big stone in his heart, but also indirectly continued and completed his parents' love…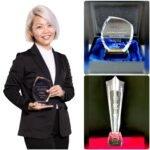 About Nirvana Singapore
We have a team of professional life managing directors in Nirvana Singapore. We have been helping many customers in the afterlife services. Contact us for more information.